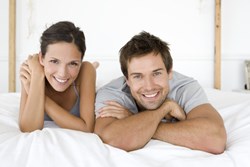 Los Angeles, California (PRWEB) October 11, 2013
Dr. Kanani , a top dentist in Woodland Hills, is pleased to offer patients advice and tips on how to make oral health a priority without putting too much effort into it.
According to the Centers for Disease Control and Prevention (cdc.gov/chronicdisease/resources/publications/aag/doh.htm), "Tooth decay affects more than one-fourth of U.S. children aged 2–5 years and half of those aged 12–15 years."
The site goes on to mention that, "Advanced gum disease affects 4%–12% of U.S. adults" and that, "One-fourth of U.S. adults aged 65 or older have lost all of their teeth."
These statistics are frightening and for dentists like Dr. Kanani, is worrisome as the bad habits of parents are passed down to their children in a vicious cycle. This Woodland Hills dentist is aware that not many adults take dental health seriously and view looking after their teeth and gums as a chore. They only tend to realize how important teeth and gum care is when it is too late and they end up suffering from tooth or teeth loss. Dr. Kanani wishes to put an end to this and has advised some simple tips that adults and their children can do together to improve their oral health.
1. Regular Brushing
This Woodland Hills dentist advises parents and children to not look at brushing one's teeth as a chore. On average a person should spend a couple of minutes per brushing session and should do so twice a day, once in the morning and once again at night. This means that the average American spends only less than 5 minutes a day on their teeth. According to Dr. Kanani, these amounts to a mere 0.3% of one's total time in a day and no one should see brushing one's teeth as a chore. Considering all the things the average American does in a day, a minuscule amount of time spent taking care of one's oral health should not be shunned. When done right, regular brushing will eliminate tooth and gum decay.
2. Regularly Use Mouthwash
After brushing, Dr. Kanani recommends one rinses one's mouth with mouthwash. This will help kill bacteria nesting in hard to reach places such in between the teeth and in the cavities between the teeth and gums. Also known as gingivitis, gum disease can and will cause tooth loss and in order to avoid this, regularly using a mouthwash after every brush is advisable. With the myriad of options out on the market, there is no reason why people cannot take the effort to spend a few seconds a day gargling their mouth properly.
Many people have no idea that by practicing these two simple steps, their lives and health will be improved forever. For those who already suffer from tooth or teeth loss, Dr. Kanani says that it is never too late to regain a full smile. Undergoing dental implants is a great option for those who wish to have a full set of teeth again. Dentures are known to come lose and fall out and may be a cause of embarrassment while speaking and eating. Dental implants are a permanent solution to tooth loss and Dr. Kanani is a renown dentist in Woodland Hills who performs this procedure. Using a revolutionary technique, Dr. Kanani is well-known for saving his patients thousands of dollars on dental implants cost. As dental implants cost so much, Dr. Kanani knows why many people opt to do without it. However, with his new technique of inserting dental implants, along with the reduced dental implant cost, there is no reason why anyone should not at least learn a little bit more about it.
Dr. Kanani is now graciously offering complimentary consultations for those who are interested in improving their oral health and leaning more about dental implants cost. This Woodland Hills dentist can be reached at (818) 962-1141 or http://www.woodlandhillsdentalspa.com.