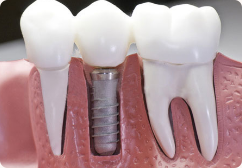 Los Angeles, CA (PRWEB) October 14, 2013
Dr. Kanani, a renowned dentist in Woodland Hills, unveils the many pros and cons to undergoing dental implants to give patients better insight when making the decision on whether to go through with the procedure.
Dental implants is not a simple procedure that can be completed in one consultation such as teeth scaling or getting a cavity filled. Additionally, dental implants cost a lot and Dr. Kanani advises patients to cover all their bases before committing themselves to undergoing dental implants. As the top dentist in Woodland Hills who performs dental implants, Dr. Kanani wishes to educate people on the pros and cons of getting dental implants.
Before one can understand the pros and cons, one should first understand what dental implants are. When one undergoes a procedure to get dental implants, it means that one is getting an implant that is meant to support restorations that resemble a tooth to replace a missing tooth or teeth. The first step in getting dental implants is when the dentist inserts a titanium shaft into the patient's jawbone. This shaft is then left to set over time to allow bone and tissue to grow around it. Only once this titanium shaft has set and is securely in place will the dentist place the replacement tooth over it. In other words, getting dental implants is a lengthy yet permanent way of getting replacement teeth to combat tooth loss.
According to Dr. Kanani, there are pros and cons to getting dental implants and as the top dentist Woodland Hills, he wishes to share them with patients who are interested in this procedure.
1. Pros of Dental Implants
One of the most obvious pros of getting dental implants is for aesthetic purposes. When one suffers from tooth loss, one usually has to deal with embarrassing situations that arise from it. Everyday activities such as eating, smiling, speaking, and laughing are causes for embarrassment. Those who choose to deal with tooth loss through dentures also regularly complain of embarrassing problems such as dentures moving around in one's mouth and at times, even falling out. By getting dental implants, one can permanently bid farewell to all problems that come about because of tooth or teeth loss. Because dental implants look, feel and function the same as one's natural teeth, it will feel like regaining a full set of teeth. Dental implants are a long term solution to combat tooth loss and can last a lifetime if properly maintained and cared for.
Another pro to getting dental implants is to ensure that all other teeth remain healthy. This is because dental implants will prevent one's natural and healthy teeth from shifting over time to make up for the empty space that was left because of the tooth or teeth loss that occurred.
2. Cons of Dental Implants
One of the main reasons why people opt to do without dental implants is because dental implant cost a lot. Many healthcare and dental policies do not cover dental implants and many patients tend to have to fork out their own money for this procedure. However, Dr. Kanani, the top dentist in Woodland Hills who performs this procedure, has good news for his patients. He is able to save each patient between $3,000 to $4,000 in dental implants costs solely due to the revolutionary and completely safe technique that he uses during the procedure. Additionally, his technique of inserting dental implants is less painful and will eat up less time during the healing process.
To find out more about Dr. Kanani's method of inserting dental implants, along with how much dental implants cost, contact this Woodland Hills dentist at his clinic by calling (818) 962-1141 or by visiting thier website. Dr. Kanani is currently taking on new patients and is pleased to offer a complimentary consultation for first-timers.