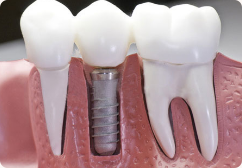 Los Angeles, California (PRWEB) April 12, 2014
In line with Mother's Day, Dr. Kanani and his team at Around the Corner Dental Health Spa are offering promotions on ZOOM! teeth whitening and dental implants. Dental implants are being offered at a starting rate of $395 whereas teeth whitening procedures start at $129.
If one has no idea what to present the number one woman in their life for Mother's Day, then a trip to one of the best dentists in the country for a pampering dental procedure will do the trick. Although unconventional, it is undeniable that an appointment to improve one's appearance trumps a box of chocolates. In line with Mother's Day, this top family dentist Woodland Hills is pleased to offer two of his most popular procedures at a fraction of the price.
1. Dental Implants
Dr. Kanani is responsible for engineering one of the most efficient ways to insert dental implants. He has proudly pioneered this revolutionary technique and offers it to his patients. Known as the Flap-Less/Drill-Less Surgery method, Dr. Kanani's method is hailed as one that significantly lowers the risk of post-surgery complications, pain and healing time. As dental implants are the long-term solution to tooth loss, it is best that patients seek the help of someone experienced. This general dentist Woodland Hills is just the person to head to. Because of the expertise and exclusivity being offered, Dr. Kanani's dental implants cost quite a bit. However in line with Mother's Day, Dr. Kanani is happy to offer this dental procedure at a starting rate of only $395. Those who suffer from tooth loss no longer have to worry about being put in embarrassing situations ever again. With Dr. Kanani's help, a full set of teeth is only a few visits to the dentist away.
2. ZOOM! Teeth Whitening
Coffee, tea, wine, cigarettes, bad oral hygiene and many other factors lend a hand in tarnishing and staining teeth. Dr. Kanani is now offering world renown ZOOM! teeth whitening at a starting rate of $129. In under an hour, patients can confidently walk away with a bright set of newly whitened teeth. Depending on the original state of the patient's teeth, Dr. Kanani says that up to a couple of sessions may be necessary. However, most patients only need to undergo one session. ZOOM! teeth whitening is an innovative form of teeth whitening that is perfect for those who are looking for instantaneous teeth lightening as it lessons all discoloration of the enamel and dentin. Depending on the patient's teeth, Dr. Kanani will decide whether an initial teeth cleaning session should be scheduled before the ZOOM! process. This Woodland Hills dentist is at the top of his game and sincerely believes that this form of teeth whitening will do wonders for one's self esteem. Dr. Kanani truly believes that the only thing one needs to stay happy and beautiful is a great smile.
To find out if Dr. Kanani is offering other promotions in line with Mother's Day, or to make an appointment, contact this oral surgery expert and his team by calling (818) 962-1141 or visiting http://www.woodlandhillsdentalspa.com.