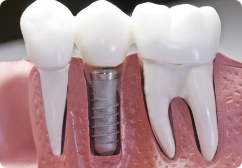 Woodland Hills, CA (PRWEB) December 26, 2013
Dr. Kaveh Kanani, DDS, is pleased to unveil his revolutionary and affordable technique of inserting dental implants.
This top Woodland Hills dentist has been in the industry for many years and is well-versed in the various ways of dealing with tooth loss. According to Dr. Kanani, his passion lies in dental implants, giving him the chance to make a worldwide name for himself through his revolutionary technique.
To understand why Dr. Kanani's method is invaluable to the dental community, it is important to first understand what dental implants are. Simply put, a dental implant is an option to replace a missing tooth. A small titanium shaft is surgically implanted into the jawbone and left to set over a period of several months. The bone will then grow around this piece of metal which will then allow the dentist to attach the replacement tooth over it.
Dental implants are conventionally inserted using a Flap Procedure. The dentist will cut and pull back the gum to expose the rim of the jaw before drilling and placing the implant. Once the implant has set, the dentist will place the replacement tooth over it. In mot cases, the jawbone is not strong or thick enough to withstand the drilling. This is because patients who have missing teeth over a long period of time suffer from moderate to severe cases of bone loss. These patients will then have to undergo a block bone graft surgery. A block of bone is taken from the patient's ribs, hip, chin, ramus, or cadaver and screwed into the jawbone. This creates a thick and stable base for drilling to occur. Only then can the patient get dental implants. Patients who have to go through block bone graft surgery will find that the total dental implants cost will shoot up by up to $4,000.
Thankfully, Dr. Kanani's affordable and efficient method of inserting dental implants is more wallet friendly. Although dental implants cost more than dentures or bridges, this long lasting solution to tooth loss is the way to go. Known as the Flap-less dental Implant Procedure, this top Woodland Hills dentist has perfected they way to efficiently insert dental implants. This technique has proven to show less bone morbidity and lessens the chances of pain and swelling post-surgery.
Dr. Kanani's method encompasses him using dental instruments to expand the bone. Through this sensitive procedure, a wedge is created in the jawbone. This is where the implant is placed. Dr. Kanani is able to condense the outer bone into a thicker wall of bone, which gives more support to the implant. The fact that this Woodland Hills dentist has so ingeniously eliminated the need for patients to go through block bone graft surgery is cause for celebration. Not only do dental implants cost less, patients also go through less pain and swelling.
As one of the top dentists in Woodland Hills, Dr. Kanani 's appointment book is filled with patients who come from far and wide to seek his dental advice. Dr. Kanani, DDS, is currently offering complimentary consultations for first-time patients and those looking to learn more about dental implants and how much dental implant cost should contact Dr. Kanani's clinic. Those who are interested in making an appointment with this dentist in Woodland Hills are urged to contact (818) 962-1141 or visit woodlandhillsdentalspa(dot) com.