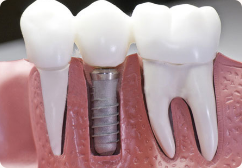 Woodland Hills, CA (PRWEB) January 21, 2014
Dr. Kaveh Kanani, a popular dentist in Woodland Hills, has unveiled the top three reasons for getting dental implants done at his clinic. He has also reduced the dental prices for new patients.
For many years, Dr. Kanani has been at the top of game, especially when it comes to dental implants. As a top Associate Fellow of the American Academy of Implant Dentistry (AAID), Dr. Kanani has proven that he meets the rigorous educational and experiential requirements needed to be an expert in dental implants. This top dentist in Woodland Hills has designed a method to insert dental implants that is far superior to the conventional method practiced by other dentists. Here are the top three reasons why Dr. Kanani's method will greatly benefit the patient.
1. Superior Technique
Known as the Flap-less Implant Procedure, this top Woodland Hills dentist has proven that this method leads to less bone morbidity, swelling, and pain post-surgery. Instead of pulling back the gums and cutting into it, Dr. Kanani uses a series of precise dental instruments to expand the jawbone to create a gap. This gap is where the titanium dental implant is placed. By expanding the jawbone, Dr. Kanani also gets rid of the need to drill into the jawbone, which is a very uncomfortable procedure for the patient to endure. By getting rid of the need to drill and cut, Dr. Kanani saves the patient from unnecessary pain and swelling.
2. Less Healing Time
Not only is Dr. Kanani's method less painful for the patient, it also promises a shorter healing time. Because Dr. Kanani expands the jawbone instead of cutting and drilling into it, he ensures that his patient does not have to undergo block bone graft surgery. Block bone graft surgery occurs when a patient has moderate to severe jawbone loss due to tooth loss over a long period of time. Patients who have to undergo block bone graft surgery will be put under anesthesia and a small piece of bone will be removed from either their hip, chin, ribs, ramus or cadaver. This piece of bone will then be placed into their jawbone to create a solid base into which the dentist will drill to create a gap for the dental implant. Because this top Woodland Hills dentist can save his patient from undergoing an entire surgery, he also saves his patient 6 months of healing time. Not only that, Dr. Kanani's Flap-less Implant Procedure ensures that the patient goes through less pain and swelling after the implants are inserted.
3. Dental Implants Cost Less
Dental implants cost less with this dentist from Woodland Hills. Dr. Kanani's ability to completely eliminate the need for block bone graft surgery ensures that his clients save between $3,000 and $4,000. Patients who once assumed they were not able to afford dental implants now have a viable and permanent option to combat tooth loss. Although the cost of dental implants depend on the patient's dental insurance, the type of dental implant, and the material used, Dr. Kanani assures all interested patients that dental implants cost far less at his clinic than at most other places.
Those who wish to have this renown Woodland Hills dentist as their dental surgeon now have the chance to fulfill their wish. Dr. Kanani is currently offering complimentary consultations for first time patients at his clinic. Those interested in making an appointment are urged to call (818) 962-1141 or visit woodlandhillsdentalspa(dot)com for more information.