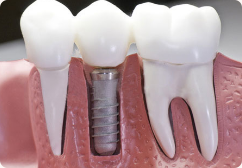 Los Angeles, California (PRWEB) September 24, 2013
Dr. Kanani is a very popular dentist in Woodland Hills and he is currently offering advise on what dental implants are, how it may be a good option for those who suffer from tooth loss and how much dental implants cost.
As the top Woodland Hills dentist around, Dr. Kanani is well-trained and very much an expert on the procedure of dental implants and how much dental implants cost for the average patient. Dr. Kanani explains that tooth loss can be attributed to several reasons, the top three being accidents, gum disease and tooth decay. Unlike children and their milk teeth, permanent teeth cannot grow back, hence once someone loses their teeth, the only way to avoid a toothless smile is to get dental implants.
As a dentist in Woodland Hills who offers this procedure, Dr. Kanani would first like to explain what dental implants is. First, he will make a small incision in the gum and surgically implant a small titanium shaft into the patient's jawbone. The shaft is then left to set. How long it takes for the shaft to set varies from patient to patient. The bone will then grow around this shaft and this forms a bridge that will either stop or slow down the bone loss that happens when the root of a tooth is missing. Once the titanium shaft implant has set in well, Dr. Kanani will then insert the replacement tooth. The shaft acts as a base that will hold this tooth in place.
According to Dr. Kanani, there are different ways to perform the procedure of inserting dental implants. He is one of the few dentists in Woodland Hills who chooses to do things differently. In general, many dentists conduct a flap procedure. This means that the dentist will pull back and cut into the gum to expose the jaw rim. Once done, the dentist will drill and place the implant in. In many cases, patients who undergo dental implants procedure already suffer from moderate to severe bone loss, which means that new bone has to be added on before the procedure can take place. This takes the form of a bone graft surgery.
Bone graft surgery means that a doctor needs to take a small piece of bone from several possible areas, such as the patient's hip, ribs and so on and this block of bone will then be screwed onto the patient's jawbone to create a stable base for the implant. According to Dr. Kanani, this is a tedious and very painful procedure and the cost of the bone graft surgery will significantly impact the overall dental implants cost.
As the top dentist in Woodland Hills, Dr. Kanani has good news for patients who want to undergo dental implants surgery. He can conduct dental implants without using the flap procedure and bone graft surgery. The method undertaken by this specialized Woodland Hills dentist has been proven to rid swelling and pain after the dental implants surgery. Additionally, it is quicker to perform and reduces the dental implant cost by $3,000 to $4,000, which amounts to the cost of the bone graft surgery.
As Dr. Kanani's method of dental implants is significantly less expensive and can offer patients the chance at a better quality of life, there is no reason not to learn more about the possibility of becoming a patient of this famous dentist Woodland Hills. To find out more about the dental implants method used by this top Woodland Hills dentist, contact Dr. Kanani and his team at (818) 962-1141 or http://www.woodlandhillsdentalspa.com to schedule a complimentary first-time consultation.