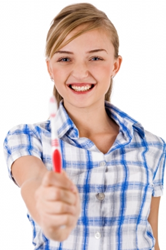 Getting affordable dental care through a solid dental plan is a must for any family
Irvine, Ca (PRWEB) February 27, 2014
The dental industry is much different now than it was in the past. Previously, people only went to the dentist if they had a problem. Now, preventive care is emphasized, meaning regular check-ups and cleanings. These help reduce the incidence of oral problems developing, since issues that might be troublesome are caught and corrected early. Regular dental visits are important, but they are more expensive than in previous decades. Getting affordable dental care through a solid dental plan is a must for any family. Here are 5 reasons why you need dental coverage.
1. Dental work is expensive: Even a routine check-up can cost $100 or more. Larger procedures, like root canals and crowns, can cost thousands of dollars. A good dental plan will reduce these costs and make needed treatment more affordable for you.
2. People never know when they will need a dentist: Your teeth may be in perfect condition today, however accidents happen that can make a visit to the dentist necessary. Anything that causes a chip, crack, or even a lost tooth necessitates a trip to the dentist, where coverage will be necessary to make sure the repairs are affordable.
3. Good oral health is essential to good heart health: There are studies linking poor oral health and heart disease. Keeping teeth and gums healthy with regular dental care reduces the risk of heart disease by almost twice as much as those with poor oral hygiene. Having good dental coverage can increase the frequency of dental visits resulting in a healthier mouth that can assist in reducing heart disease.
4. You don't have to be concerned with how you will pay for dental work: Most dental plans cover, or offer a heavy discount on, basic dental work, such as check-ups, cleanings, x-rays, fillings, and other routine procedures. You can often get significant discounts on the more intensive procedures when those are needed. Since your plan brochure tells you how much each procedures cost, you will never be surprised with huge dental expenses after a trip to the dentist.
5. Dental coverage is highly affordable: Dental Plans 4 You™ has plans that start at $7 a month. Most people can afford that amount. If you need something with more coverage available, you can choose from among plans and prices, so you can find the best plan for you and your family.
A dental coverage plan can improve your health and save you money when it counts most. You'll get steep discounts off of most dental procedures. With the steep prices associated with dental procedures, can you afford to go without coverage? If you're like most Americans, affordable dental care is something you need, and it's something you can get today at Dental Plans 4 You™.