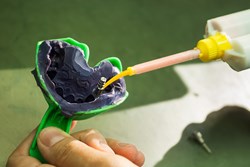 We source quality everyday dental consumables at competitive prices.
London, United Kingdom (PRWEB) August 30, 2013
The Glove Club, leading suppliers of medical disposables have introduced a range of commonly used dental supplies. These include intra-oral tips, mixing tips, dental bibs, pre-bent tips, 3-in-1 syringe tips, sterilisation pouches, prophy cups, headrest covers and many more at very competitive prices.
Quality and competitiveness are very important at The Glove Club and this shows from the customer service, product and pricing.
The Glove Club also supply a wide range of disposable gloves including latex, nitrile and vinyl gloves which are the most frequently used product at any dental practice.
The dental supplies are now available from The Glove Club website and by calling +44-208-991-4300. Many of the products are reduced at an introductory rate. As well as gloves and dental supplies, there is a wide range of paper, infection control and cleaning products available at competitive prices.
About Glove Club Ltd
The Glove Club has been a manufacturer, wholesaler and distributor of medical grade disposable products since 1994. Its experience and expertise of supplying products to a wide range of customers makes it a cut above the rest. In its 18 extensive years of business they have been a leader in latex, nitrile and vinyl gloves, all made to a medical grade (AQL 1.5) and many everyday disposables like masks, paper towels and aprons. They supply to dental practices, nursing homes, funeral directors, veterinaries, hospitals, GP's and even the general public.
Users of disposable consumables can contact The Glove Club on 0500 456 832 or by accessing the new website at http://www.gloveclub.co.uk.
Manoj Parmar, Marketing Manager
Glove Club Ltd
+44 208 991 4303
http://www.gloveclub.co.uk