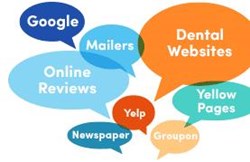 This whitepaper is designed to help dentists analyze their marketing tactics and increase patient production.
Los Angeles, CA (PRWEB) February 18, 2014
Futuredontics, parent company of 1-800-DENTIST® and the nation's leading dental marketing company, has released a new whitepaper, "Marketing Best Practices: A Guide for Modern Dental Practices." The report analyzes the most popular marketing methods used by dental practices and outlines how to determine which strategies are working for the practice and which should be re-evaluated.
The whitepaper explores both traditional and new digital marketing strategies, providing dental professionals with a comprehensive guide to dental marketing methods. Highlights include the truth about social media in dentistry, the marketing trick most dentists forget about and why phone directory advertising is a bad investment. The report also lays out costly pitfalls to avoid when marketing your practice.
"Striking the right balance of marketing methods can be challenging for dentists," explained Michael Turner, Futuredontics CEO. "This whitepaper is designed to help dentists analyze their current marketing tactics and determine the appropriate marketing mix to increase patient production moving forward."
Dentists can request a copy of "Marketing Best Practices" by calling 1-855-245-5025 or visiting http://www.futuredontics.com/MarketingBestPractices. At the same time, they'll be given a 10-minute demo of Futuredontics' newest marketing tools that provide turnkey solutions for practice growth, social media, patient communication, online reputation management, websites and much more.
"Dental professionals entered the industry to practice dentistry – not marketing," said Turner. "That's where we come in. We've used our 28 years of dental marketing experience to create this whitepaper to help the dental practices streamline their marketing strategy."
The new whitepaper is the latest in a series of dental marketing reports published by Futuredontics. These resources are offered to complement the company's full suite of marketing products, which offers solutions for every aspect of dental practice growth.
About Futuredontics®
Futuredontics®, parent company of 1-800-DENTIST®, is America's leading provider of dental marketing services & software. Since 1986, the company has been dedicated exclusively to dentistry, developing powerful products and resources that help dentists thrive in the evolving digital world.
The company's flagship product, 1-800-DENTIST, has delivered over 7 million new patient leads to dental practices nationwide. PatientActivator®, their patient communications and online marketing solution, increases production and boosts the practice's online presence with automated appointment confirmations and tools for social media, reviews and much more.
ReputationMonitor® helps dentists protect their online reputation – monitoring hundreds of directories, reviews sites and social media platforms, and displaying them all on a single screen. WebDirector® delivers dynamic websites, mobile sites and branded social pages all for one low price. And ReActivation Pro® gets dormant patients back on the practice's schedule.
Futuredontics also offers an extensive library of dental marketing resources – including in-depth whitepapers, Webinars and front desk training. With unlimited live customer support, dentistry's best marketing products and the largest dental website in North America, Futuredontics is the proven way for dental practices to grow their patient base and increase production year after year.
Contact: Betsy Roddy, Futuredontics, 310-215-6535
###