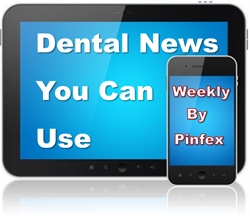 This weekly update gives dental labs and the dental practices; "news they can use" and "puts the pieces together" to achieve their financial objectives and oral healthcare mission.
San Antonio, Texas (PRWEB) September 17, 2013
Pinfex (web: Pinfex.com/blog), updates dental labs and dental practices with fresh dental news in a weekly digital format. Pinfex picks the best stories in "dentistry" and "dental marketing" that inform and arm subscribers with tools to make wise business decisions and ultimately enhance the financial value of dental practices and dental labs. Here's a sample of dental news received by Pinfex's subscribers via a free newsletter called "Dental News You Can Use":
Dentistry News:

Change in the Dental Industry – Resistance is Futile
Another Canceled Dental Appointment, Again! – Now What?
Dental Labs: Time to Reconsider Outsourcing Zirconia Fabrications?
Dental Digital Impressions - A Look into the Future
Dental Marketing:

Should Dentist Be Their Own Dental Marketer?
Best 2013 Dental Marketing Articles – Hint - It's NOT All Social Media
Dental AdWords -Marketing Made Easy and Effective
Dental Marketing - Direct Mail vs. Social Media and the Winner is…
Carlos Codina, Pinfex's CMO; "Owners of dental practices and dental labs now have the opportunity to receive current dental news delivered to them weekly, without taking precious valuable time to search for it. Time is money, and your time is best spent in your dental practice or dental lab business, isn't it?"
Subscribe to the FREE "Dental News You Can Use" Newsletter, here: – http://pinfexnews.pinfex.com/
About Pinfex:
Pinfex is a dental software & technology company, with an emphasis in laboratory case management and advanced marketing techniques for the dental industry. Pinfex's motto of "Putting the Pieces Together" represents its goal of creating a platform whereby the disparate resources necessary for dentists and labs to efficiently collaborate are brought together, resulting in an optimal restoration experience for the patient, in the shortest period of time.
Pinfex also facilitates marketing techniques necessary for dentists and labs to attract and retain new patients and customers, using proven strategies and tactics. Pinfex has worked on software technologies for the past few years. More will be revealed as it approaches the launch of Pinfex's software services.
Contact:
Pinfex.com
Web. http://www.pinfex.com/blog/
Email: ccodina@pinfex.com
Tel. +1-210-426-8233