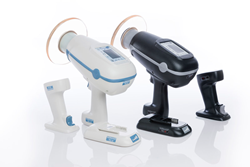 The NOMAD X-ray's breakthrough technology has revolutionized intra-oral X-ray, and now it has become mainstream in the world of dentistry.
Orem, Utah (PRWEB) July 29, 2014
Aribex™, Inc., worldwide leader in handheld X-ray technologies, today announced the sale of their 15,000th NOMAD™ handheld X-ray system. Since its creation in 2004, NOMAD has quickly climbed to the top of the intra-oral X-ray market and recently became a proud brand of the Kavo Kerr Group. The device's breakthrough technology has revolutionized intra-oral X-ray, and now it has become mainstream in the world of dentistry.
"This is the modern way to take intra-oral X-rays efficiently," says Mike Heyn, Business Unit Director for Aribex. "Why hang a wall-mounted X-ray? Times have changed. NOMAD delivers benefits that wall mounts can't." With its lightweight, battery-operated design, NOMAD provides the fastest workflow and most flexibility of any intra-oral X-ray. These are just some of the benefits causing thousands of dental offices to make the switch to NOMAD.
NOMAD requires no walls, no installation and no space-reducing cabinets. This leaves the staff free to arrange their operatories in the most effective workflow for them. Because operators are fully shielded from radiation while using NOMAD, they also have the freedom to stay with patients when taking X-rays which minimizes retakes and expedites the X-ray process.
"NOMAD increases our productivity because we don't spend as much time obtaining the radiograph," explains Dr. Robert Studebaker, DDS from Summit Dental in Boise, Idaho. "It allows us to get that information more accurately, and I get to spend my time where it's important: diagnosing and visiting with the patient."
In addition to heightened workflow, flexibility is an influencing factor in choosing NOMAD. It allows dental offices to have one NOMAD for multiple operatories, cutting equipment costs and opening up ways to take X-rays more conveniently. Oral surgeons and endodontists are now able to take NOMAD with them into procedures and take X-rays under anesthesia.
Often the convenience and comfort of using NOMAD causes dental staffs to obsolete their older, working wall mounts in favor of NOMAD and it has changed their office. Heyn says, "I hear all the time from dentists and staff that the NOMAD is one of only a handful of products that has entered the dental market and actually changed the way they practice." NOMAD has proven itself to be a revolutionary technology in the dental world, and the over 15,000 units shipped are a testament that this device is finding itself in the mainstream of dentistry.
About Aribex
Aribex is the worldwide leader in portable and handheld X-ray products and a proud brand of the Kavo Kerr Group. Aribex NOMAD X-ray systems are now in use in clinical, remote and mobile facilities throughout the world, from the finest professional offices to humanitarian missions reaching underserved populations who desperately seek care. NOMAD significantly decreases costs and provides hundreds of safe, high-quality images for dental and veterinary applications on a single battery charge. For more information, visit http://www.aribex.com.
About Kavo Kerr Group
KaVo Kerr Group is a global portfolio of leading dental brands that share common values of Trust, Experience, Choices, Quality and Smart Innovation. Brands include KaVo, Kerr, Kerr Total Care, Pentron, Axis|Sybron Endo ,Orascoptic, Pelton & Crane, Marus, Gendex, DEXIS, Instrumentarium, SOREDEX, i-CAT, NOMAD, Implant Direct , DUX and Ormco. With over 500 years of combined experience and proven solutions, KaVo Kerr Group uniquely serves 99% of all dental practices. Visit http://www.kavokerrgroup.com for more information.