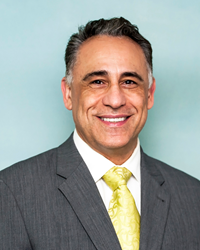 As dental professionals, it is our job to provide regenerative dentistry and medicine as a standard of care to our patients.
Bethesda, MD (PRWEB) May 06, 2014
Dental stem cells have the potential to be used in regenerative dentistry and preventive medicine. They are already being used to regenerate alveolar jawbone and to treat periodontal diseases. Dr. H Ryan Kazemi, diplomat of the American Board of Oral and Maxillofacial Surgeons and with a practice in Bethesda, Md., since 1997, sees the potential of dental stem cells to help future generations prevent a host of fatal conditions and diseases. "This is an exciting advancement in medical technology," Dr. Kazemi said. Research shows that storing stem cells from dental pulp has the potential to treat diseases such as diabetes, Parkinson's, muscular dystrophy and other diseases. Dr. Kazemi adds, "As dental professionals, we have a unique opportunity to contribute to regenerative dentistry and medicine for improving the health of our patients."
Stem cells can be harvested from dental pulp from any healthy tooth: extracted wisdom teeth, and teeth pulled for orthodontia. Teeth are collected in a temperature-controlled Save-A-Tooth kit to be securely delivered to Store-A-Tooth's laboratories, where stem cells will be frozen and stored. The viability of stem cells within teeth will decrease in number and viability as they age; collected adult teeth may be less viable than younger teeth. Baby teeth that have fallen out on their own can still be collected, tested and banked—as long as they had a blood source when they fell out. If the gum bleeds when they fall off, the teeth are most likely still viable.
Alexia Minervini, a jewelry designer who lives in Washington, D.C., said she looks forward to the new program: "My husband and I are always thinking of ways to invest in the best education for our two sons. If storing their dental stem cells may have a significant role in the future of their health, we are happy to invest in the best medical future for them as well."
Ricardo Schuttmann, a graphic designer who lives in Bethesda, Md., said, "As soon as my son is ready to get his wisdom teeth extracted, I will store his dental stem cells knowing that this may save my child's life someday, if needed."
Dr. Kazemi noted, "I am excited to be a licensed provider with a world-class team as Store-A-Tooth (Provia Laboratories LLC), which provides the possibility to bank these valuable dental stem cells. The parents' decision to store dental stem cells for their children is now an amazing advancement in regenerative dentistry. Discarded teeth are used for a promising future of children's health and well-being."
About Dr. H. Ryan Kazemi
Dr. H. Ryan Kazemi is the founder of the Kazemi Oral Surgery & Dental Implants, located in Bethesda, Md., since 1997. He provides a full spectrum of oral and maxillofacial surgery procedures with a specialty in the extraction of teeth—which can now be collected for banking dental stem cells to treat various diseases, as well as dental implants, bone grafting and corrective jaw surgery.
Dr. Kazemi is a diplomat of the American Board of Oral and Maxillofacial Surgeons and an active member of the American Association of Oral and Maxillofacial Surgery, Academy of Osseointegration, American Dental Association and Entrepreneur Organization. He has served as the founder and president of many dental and implant study clubs in the Washington, D.C., area. He is also a contributor to DentalXP educational forum.
Dr. Kazemi has published and lectured extensively on extractions, dental implants, bone grafting and dental trauma. More than 2,000 dentists read his newsletter, "To-The-Point," every month.
For more information about dental stem cell banking, please visit:
http://www.facialart.com/wp-content/uploads/2014/03/Store-A-Tooth-Article.pdf.
Contact:
Dr. H Ryan Kazemi DMD
Kazemi Oral Surgery & Dental Implants
301.654.7070
E-mail:
hkazemi(at)facialart(dot)com
http:/http://www.facialart.com
###