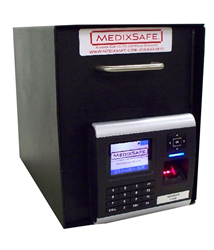 Keys or PIN numbers alone are no longer enough to ensure security and accountability for restricted employee access
(PRWEB) July 08, 2015
Memphis, TN: Every year employee thefts make regional and national news. Many of those were in dental offices, clinics, and labs. Employees are stealing controlled substances like narcotics as well as stealing precious metals like gold and silver palladium.
Keys or PIN numbers alone are no longer enough to ensure security and accountability for restricted employee access. Across the country the dental industry is suffering from the high costs of employee theft. Among the biggest concerns are staff integrity, liability, and the bottom line. This has led to a demand for an access audit trail and inventory tracking systems. MedixSafe offers unique, field-tested security solutions to meet those demands and keep controlled substances safe.
Highlights from this year's headlines:
Sarasota, FL – A Sarasota lab tech was arrested for pawning dental grade gold after the suspicious pieces of gold were noticed by a local deputy. After contacting the owner of the laboratory, it was determined that about 60 pieces of gold and 240 pieces of silver palladium were missing, valued at about $8,800. The lab tech was charged with three counts each of Dealing in Stolen Property and Fraud for Providing False Ownership Information for Pawned Items.
Omaha, NE – a dentist was convicted of stealing gold from VA hospital. The 59-year-old dentist has been convicted of stealing dental gold and equipment when he worked at the Veterans Affairs Medical Center in Omaha. Investigators say the dentist stole more than $16,000 in dental gold and equipment from a locked cabinet.
MedixSafe offers security cabinets in six sizes. All are made of ten gauge powder-coated steel (not aluminum) and require dual or triple access for entry. This means the user needs a combination of a PIN, proximity card and fingerprint scan to open the safe. MedixSafe units allow administrators to add, delete and modify users and download event history remotely from an administrator's desk.
MedixSafe Vanguard 2 provides tracking inventory for audit purposes. Built-in software includes an SQL server database or can be easily integrated into an existing SQL server. The system automatically records and documents all activity, providing an accurate audit trail for the DEA and other authorities having jurisdiction.
The MedixSafe system administrator can remotely allow or deny access to any user in any MedixSafe Vanguard 2 unit connected to the network. Instant alerts can be set to notify the admin when inventory is removed, the safe is tampered with, and/or any other activity occurs involving the safe – with an automatic message sent to a mobile phone or PC.
For more information, please contact MedixSafe at 855-MEDIXSAFE or medixsafe.com.
Sources:
Sarasota lab tech arrested for pawning dental grade gold. January 16, 2015 - 10 News wtsp.com/story/news/2015/01/16/sarasota-pawn-dental-grade-gold/21859985
Dentist convicted of stealing gold from VA hospital. Mar 11, 2015 - KCCI Des Moines kcci.com/news/dentist-convicted-of-stealing-gold-from-va-hospital/31731610