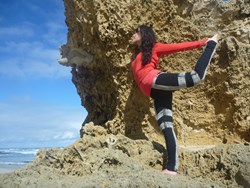 I aim to alleviate the pain cycle as well as point my patients in the right direction to take charge of their lives.
Melbourne, Victoria (PRWEB) September 28, 2013
Over the last six months, Beacon Cove Dental has implemented the strategic, yet relaxing, techniques of yoga into their practice. The Principal Dentist Dr. Fern White, who has been studying and practicing the art of yoga for a decade, is on the cusp of finishing the 200RYT Yoga Alliance Certification which qualifies her as a meditation, yoga and breath-work teacher with Yoga Alliance. The dental Yogi has not only used her peaceful techniques to make dental treatments more enjoyable for clients, but has also taught them to staff. "By incorporating meditation and relaxation into each day with my team, chronic injuries can be avoided while creating a healthier, happier and more relaxed environment."
Stress has been accepted as part of everyday life in many western societies; yet the anxiety produced from a simple trip to the dentist can outrank most other daily gripes. "It's common knowledge that most patients find any dental procedure extremely stressful," says Dr. White. She then adds that their worry is often "a phobia which has developed over time from previous bad experiences."
Assisting her patients in overcoming these inner dental fears, which also alleviates the dread of sitting in a dental chair, has been a mission of Dr. White's for many years. She understands the "disastrous effects that stress can have on the mind and body" and has herself grown tremendously through the practices of meditation and yoga. Dr. White's vision for Beacon Cove Dental has been to provide exceptional, life changing dentistry in a calm environment. A place where all are nurtured and empowered to grow and be accountable for their dental and general health.
The Yogi and Principal Dentist at Beacon Cove Dental has now fully implemented her 10 years of asana and mindfulness experience into her Port Melbourne clinic. "In order to establish trust with my patients, I must create a authentic connection with them." She continues, "I take the time to understand my patients, allowing confidence to build between us; this leads to my being able to effectively align the right dental treatment approach for them."
Dr. White further explains her yoga and mindfulness methods, "I'm able to use my skills in breath-work and relaxation to calm patients before any treatment; the body cannot be in a physiologically stressed state when one is breathing slowly and steadily." She also says the techniques she uses can be used in any stressful situation in life, not just in her dental chair.
What's more, the professional and composed dentist adds that she plans to teach her staff these techniques as well "so they can help relax every patient that comes into the clinic." Dr. White continues, "Better yet, by my team knowing yoga, meditation and break-work, they'll be able to take better care of their own bodies and stress levels, which will make them more effective in their roles."
Dr. Fern goes on to say that the integration of her yoga teachings within her dental clinic will benefit the client experience exponentially with a "calming, nurturing environment devoid of pharmaceutical drugs to relax patients." She then says that it has also produced happier, healthier staff members who play an instrumental part in maintaining a peaceful and positive environment for all.
The Principal Dentist makes a final comment, "My mission is not just to treat symptoms. Through these learnt techniques, I aim to alleviate the pain cycle as well as point my patients in the right direction to take charge of their lives; when I have done this my true goal has been achieved."
Just recently, Beacon Cove Dental has implemented the ancient art of yoga into their practice to enhance their staff and client experience. The Port Melbourne clinic is a leader within their industry for applying environmentally conscious practices as well as innovative dental treatments. By combining their professional expertise with the calming practice of yoga, they ensure they're in harmony with both their surroundings and their patients. To learn more about their wide range of services, please click here.
About Beacon Cove Dental
Beacon Cove Dental believes oral health is a critical part of overall health and that accessing state of the art dental treatments should be simple and easy for everyone.
Furthermore, Beacon Cove Dental feels that their clients should have full control of their treatment and be active in its planning. The all-female team of practitioners and assistants believe in treating the whole person rather than just their mouth. In spending the time working together with patients, their dental goals are achieved.
Beacon Cove Dental is also active in creating a completely environmentally sustainable and 100% Green Powered practice. To learn more about Beacon Cove Dental, please click here.