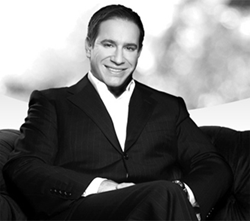 Beverly Hills, CA (PRWEB) May 21, 2014
Beverly Hills dental implants expert, Dr. Kevin Sands, now offers a variety of dental implants to restore lost teeth. Tooth loss is extremely common but can have long-lasting repercussions. Patients who have lost one or more teeth may be more likely to develop misaligned teeth, periodontal disease, tooth decay and excess stress on the teeth and jaw joints. Dental implants offer a healthy replacement option that can last a lifetime.
Many types of implants are available to meet specific smile needs. Single tooth dental implants are often used with porcelain crowns. This design allows them to act, feel and look just like a natural tooth. The implant itself is a titanium root-like device that is placed in the jaw. The bone fuses around the implant to create a new root. This process, which is known as osseointegration, creates a sturdy foundation for the restoration.
Full dental implants work similarly. They are implanted directly into the jawbone, but they can be used with a variety of restorations, including dental bridges and dentures. They are a great choice when patients are missing most or all of their teeth and offer a more secure solution than traditional dentures. The osseointegration process also ensures that the jawbone is regularly stimulated, and this helps preserve more bone tissue and reduces the loss of bone that so often occurs when a tooth is lost.
Dr. Kevin Sands, Beverly Hills dental implants expert, works with patients to help them determine their candidacy for the procedure. Most patients who are missing teeth are candidates for dental implants, but those with extensive periodontal disease or who have suffered from bone or gum loss may need additional procedures to improve outcomes.
A top Beverly Hills dental implants expert, Dr. Kevin Sands offers a wide range of treatment options so that his patients can achieve the smiles they deserve. He is a graduate of the USC School of Dentistry and the Las Vegas Institute. His work has been showcased in a variety of media outlets, and he is recognized as a top celebrity and cosmetic dentist. Today, Dr. Sands is a member of the California Dental Association, the American Dental Association and Academy of Cosmetic Dentistry.