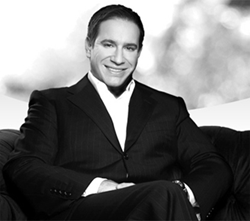 Beverly Hills, CA (PRWEB) June 25, 2014
Beverly Hills dental implants expert, Kevin Sands D.D.S., today announces that he is offering a special on implants. As the top choice for replacing lost teeth, dental implants protect patients from the complications of tooth loss, which include facial deterioration, jaw bone loss and other oral health problems. With access to affordable implants, more patients can obtain this treatment for themselves.
The advantages of dental implants are numerous and include improved oral and overall health in addition to better looks and more comfort. Because implants fuse with the jaw bone, they are completely stable during meals and social interactions and provide optimal chewing power. Studies have shown that as patients grow older, the pressure transferred to the bone by tooth roots or dental implants helps to prevent dementia. Although bridge-supported crowns and removable dentures restore appearance and chewing ability, they fall short of dental implants in that they do not replace missing tooth roots.
The cost of implants pays for itself over the lifetime that implants can last with proper care and regular check-ups from Beverly Hills dental implants expert Dr. Sands. With these implants in place, patients are less likely to suffer tooth decay, gum disease and other problems that might necessitate expensive restorative procedures. The ability of implants to guard against facial deterioration can also reduce the likelihood that patients will need plastic surgery later to correct cosmetic flaws. By undergoing the dental implant procedure as soon as teeth are lost, patients may even be able to cut their treatment costs by avoiding jaw bone loss and the consequent need for bone grafting before placement.
Beverly Hills dental implants expert Dr. Kevin Sands is known for the talent he brings to cosmetic and restorative procedures, including dental implant placement. Since earning his doctorate in dentistry from the University of Southern California, Dr. Sands has been offering his personal attention and considerable skill to patients in Los Angeles. As a respected member of multiple professional dental organizations, Dr. Sands is up to date on cutting-edge methods of giving patients better looks and oral functionality that can improve their life quality and health.