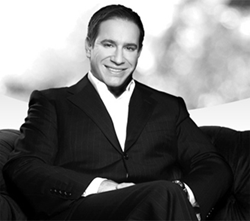 Beverly Hills, CA (PRWEB) January 27, 2015
Beverly Hills implants expert, Dr. Kevin Sands, is now offering a special on dental implants to help patients get a complete new set of teeth. Dental implants are increasingly preferred to other types of tooth replacement for their advantages related to appearance, health, and comfort. Because dental implants stand on their own in the mouth, patients can get a single dental implant or replace all of their teeth as an alternative to dentures. Patients who are interested in this treatment should contact the office of Dr. Sands to learn more about the present special.
Full mouth implants can be preferable to full dentures, a conventional solution, for several reasons. In contrast to dentures, dental implants:

Never slip or click when patients speak or chew
Never require removal or special cleaning procedures
Replace the roots of teeth, preventing tooth shifting
Prevent jaw bone deterioration because they fuse with the jaw
Can last for a lifetime with proper care
To get dental implants, patients visit Dr. Sands for an initial consultation. During this appointment, Dr. Sands discusses treatment goals, X-rays the teeth, photographs the teeth, and takes bite impressions. To determine whether the jaw bones are able to receive implants immediately, Dr. Sands verifies their mass. When the jaw bones lack mass, Dr. Sands may recommend bone grafting before placement. This can take up to nine months depending on healing time. During placement, Dr. Sands inserts the implants into the jaw bone through incisions. Finally, Dr. Sands tops the implants with crowns or dentures after they have healed for a variable number of months. The cost of dental implants can depend on the type and number of implants used, the need for bone grafting, and other individual factors.
Beverly Hills dental implants expert, Dr. Sands, graduated from the University of Southern California with his Doctorate of Dental Surgery. At the Las Vegas Institute of Advanced Dental Studies, Dr. Sands expanded his skill set considerably. Today, Dr. Sands is renowned for the precision and personable approach he uses in a wide variety of preventive, restorative, and cosmetic dental treatments.