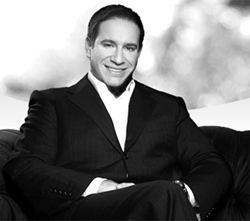 Beverly Hills, CA (PRWEB) April 23, 2014
Beverly Hills dental implants expert, Dr. Kevin Sands, now offers various types of dental implants to meet the needs of more patients who have missing teeth. These types are single tooth implants, mini dental implants and full mouth dental implants. All dental implant types give total stability thanks to fusion with the jaw bone, which lets patients avoid the jaw bone resorption that can occur after tooth replacement with alternative treatments.
The dental implant options provided by Beverly Hills dental implants expert Dr. Kevin Sands serve patients in several ways. Single implants, as their name suggests, can be used to replace individual missing teeth and do not require drilling into adjacent teeth as bridge-supported crowns do. Mini dental implants make bone grafting unnecessary for many patients who have lost jaw bone mass, and their placement and recovery is faster than with standard implants. Full mouth implants are also an alternative to traditional dentures and can be used by patients who have no remaining teeth left that might be used as abutments for dental bridges.
All dental implants offer an array of benefits to patients who are faced with missing teeth. In contrast to dental bridges, dental implants stand alone thanks to implantation in the jaw, leaving healthy adjacent teeth intact. Unlike dentures, dental implants never slip during meals or conversations, making recipients more comfortable and confident as a result. In the long term, dental implant wearers often enjoy better oral health than wearers of dentures and bridges and are safe from jaw bone resorption that is associated with those other options and can cause loss of facial muscle tone.
Dr. Kevin Sands, Beverly Hills dental implants expert, offers restorative and cosmetic procedures to area residents who want comprehensive dental treatment in one place. With memberships in several dental professional organizations and recognition as the dentist used by numerous celebrity singers and actors, Dr. Sands is a reputable provider of treatments including teeth whitening, veneers, dental bonding and Invisalign. All procedures offered by Dr. Sands are performed using modern equipment and the latest dental techniques for dependable results.