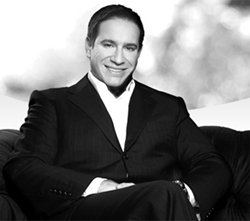 Beverly Hills, CA (PRWEB) May 28, 2014
Beverly Hills dental implants expert, Dr. Kevin Sands, today announces that he is now offering a promotion on dental implants. Dental implants have become the preferred option for replacing teeth because they replace the roots of teeth in addition to the crowns. Because of this, dental implants prevent jaw bone resorption and its complications, which include tooth shifting, tooth loss and facial deterioration. With bone grafting, many patients who have already experienced jaw bone resorption can still receive affordable dental implants.
Dental implants carry a number of benefits over alternative tooth replacement options, such as bridge-supported crowns and traditional dentures. For example, unlike bridges, dental implants do not require the presence of healthy adjacent teeth for stabilization. In contrast to dentures, dental implants are completely stable when patients speak or eat. Patients who prefer the option of removable dentures can also anchor their dentures with dental implants, providing dependable stability when they wear their dentures. When used to support crowns, dental implants from Dr. Kevin Sands provide a more natural appearance compared to bridges because they require no hardware above the gum line. See dental implants before and after pictures.
The prevention of jaw bone resorption with dental implants carries several advantages. Long-term jaw bone resorption can cause deterioration of facial tissues, markedly changing appearance and making patients look older than they actually are. Jaw bone resorption can also result in loss of remaining healthy teeth, creating a chain reaction that may ultimately cause loss of all teeth. As a result, choosing dental implants over alternatives can let patients avoid needing plastic surgery later to restore their appearance. This also means that while initial investment may be considerable, dental implants cost less in the long term. Finally, the direct connection between dental implants and the jaws provides the stimulation the brain needs to stay healthy in old age.
Beverly Hills dental implants expert Dr. Kevin Sands is experienced in the latest techniques for placing dental implants. As the cosmetic dentist to several Hollywood celebrities, Dr. Kevin Sands is well known for his ability to give patients brilliant and functional smiles. Patients who visit Dr. Kevin Sands also have access to numerous other cosmetic and restorative treatments, including veneers, teeth whitening and tooth-colored fillings.