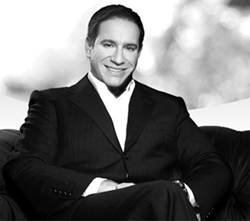 Beverly Hills, CA (PRWEB) June 20, 2014
Beverly Hills implants expert, Dr. Kevin Sands, today announces that he now offers mini implants. Like other dental implants, mini implants give patients natural-looking tooth replacement that protects against jaw bone loss for life. Unlike full-size dental implants, however, mini implants are shorter in diameter and length and are easier to install as a result. The availability of mini implants at the office of Dr. Sands gives more patients the option of reaping the benefits of dental implants.
Mini implants give patients multiple benefits by being smaller. For example, mini implants rarely require patients to undergo bone grafting before placement as full-size dental implants may in cases of jaw bone loss. Placement is faster, with completion happening in one day versus several months as can happen with full-size implants. The simple placement also virtually eliminates the recovery period, letting patients return to their normal lifestyle soon after getting their new teeth. Finally, complications are less likely to occur thanks to the easier insertion of mini implants compared to their full-size counterparts.
Before visiting Beverly Hills dental implants expert Dr. Kevin Sands to seek mini implants, patients can view dental implants before and after photos to aid their understanding of what this treatment can accomplish. Indeed, these images show complete restoration of looks for patients who have suffered tooth loss. Patients can use mini implants to replace one or several teeth because dental implants do not rely on adjacent teeth for support. For example, single implants are an alternative to bridge-supported crowns while multiple teeth implants work well as alternatives to traditional dentures.
Beverly Hills dental implants expert Dr. Kevin Sands is a graduate of the dentistry program at USC. Today, he is highly respected in his field and is an active member of several professional organizations, including the American Dental Association, the American Academy of Cosmetic Dentistry and the California State Dental Association. As a provider of tooth replacements, Dr. Sands has successfully placed countless full-size and mini implants to restore the smiles of Southern California patients. He understands the factors that determine oral wellness and aesthetics and develops personalized plans to give every individual the best possible results from treatment.