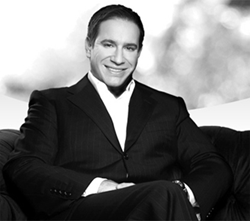 Los Angeles, CA (PRWEB) April 29, 2014
Los Angeles dental implants expert, Dr. Kevin B. Sands, now replaces lost teeth with full mouth implants. Compared to dentures and dental bridges, the most common alternative tooth replacement options, full mouth dental implants offer more support for long-term oral health and appearance. In particular, dental implants prevent jaw bone resorption because they are implanted in the jaw bone. Many patients report more confidence and comfort after having their missing teeth replaced with full mouth implants.
Dental implants prevent some of the pitfalls associated with alternatives because they are anchored in the jaw bone. With implants in place, the jaw bones are no longer prone to resorption as they are after teeth are replaced with bridges or dentures, which do not fill the role of tooth roots. This means that dental implant recipients avoid increased risks of gum disease, TMJ and facial muscle loss, which can result from jaw bone resorption. The stability of dental implants lets patients continue to eat, speak and chew as if they had natural teeth. With dental implants before and after pictures available now, it is possible for anyone to visually review the aesthetic enhancement this treatment offers.
Full mouth implants from Dr. Sands, Los Angeles dental implants expert, offer unique advantages over alternative treatment options. For example, an increased ability to chew foods properly with dental implants compared to alternatives means that dental implant recipients have better digestion and nutrient absorption. In contrast to removable dentures, which tend to slip and click when patients speak or chew, dental implants stay firmly in place because they are permanently fused with the jaw bone. Dental implants are also easier to clean compared to alternatives, requiring only daily brushing and flossing as natural teeth would.
Dr. Kevin Sands, Los Angeles dental implants expert, offers cosmetic and restorative dental treatments to area patients. He combines his diverse dental experience with the latest equipment to give his patients brilliant smiles. A member of multiple dental associations, including the American Academy of Cosmetic Dentistry and the American Dental Association, Dr. Sands is also known for his work on popular celebrities.