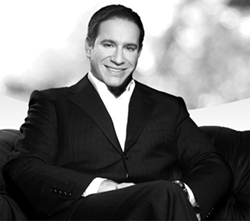 Los Angeles, CA (PRWEB) May 04, 2015
Los Angeles dental implants dentist, Dr. Kevin Sands, is now offering a more comfortable and attractive alternative for patients with dentures. Dentures have long been the restoration of choice for those who have lost teeth. Unfortunately, they also require some limitations for patients. Dentures can feel insecure or slip at the worst possible moment and may make clicking noises when the patient eats or talks. They can also painfully pinch or rub gums, leaving sores and irritated spots.
Dental implants are a revolutionary tooth restoration option. They offer many benefits, including:

Comfort
Improved retention
Healthier bone tissue
Better aesthetics
Permanence
Full dental implants are strategically placed in the jawbone to secure dentures. The dentures will not slip or slide out of place, and the biocompatible implant is fused to the jawbone to create a permanent root structure for the denture. Mini dental implants are often used when full implants would not be appropriate. The implants fit securely in the jaw and keep dentures in place just like natural teeth. They do not need to be replaced or adjusted, and they offer a long-term solution to tooth loss.
Some dental insurers cover part or all of the cost of dental implants, but Dr. Sands also offers financing for qualified patients. Financing can be used to cover out-of-pocket costs or other costs associated with treatment. Since they do not require regular adjustments, implants are a cost-effective alternative to dentures or bridges. The comfort and aesthetics are unparalleled; implants are an investment in smile health and confidence worth making.
About Dr. Kevin Sands, Expert in Dental Implants Surgery Los Angeles
As an elite dentist, Dr. Sands, has had a variety of TV and magazine appearances showing his list of accomplishments in smile makeovers for Hollywood celebrities and his cosmetic work. He attended the University of Southern California and the prestigious Las Vegas Institute. He has proven his skills in the fields of cosmetic and implant dentistry, and he is recommended among patients and peers alike. Today, Dr. Sands is a member of the California State Dental Association, the American Dental Association and the American Academy of Cosmetic Dentistry.