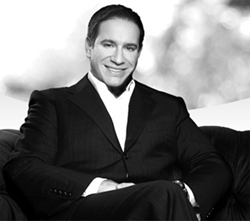 Los Angeles, CA (PRWEB) June 09, 2016
Dental implant dentist, Dr. Kevin Sands, now recommends the use of dental implants for replacing lost teeth due to their role in preventing facial sagging. Each tooth plays an important role in the function of a smile. Research has found that even a few missing teeth can make it difficult for a person to eat a varied, healthy diet. Teeth are also there to stabilize bone health and quality. Each tooth acts as a keystone that helps anchor the other teeth into place and supports overall facial structure. When a tooth is lost, its' socket collapses, and bone tissue begins to be reabsorbed by the body. This can lead to a collapse of the facial features, sagging skin and premature aging.
Implants fit in the mouth much like natural teeth do. Dr. Kevin Sands strongly advocates using dental implants any time a tooth has been lost. "There's a whole new breakthrough now with dental implants," says Dr. Sands. "It's just like your natural tooth. We place a titanium post into your gum, and we can actually make a tooth look like you were born with it. You could floss in between it. You don't have to prepare the teeth next to the implant, you conserve tooth, it lasts longer, and it's just amazing." The implant is surgically placed into the jawbone and becomes a new root for the tooth. The bone tissues will then fuse to the implant and provide support for the socket to create a stronger, healthier bone structure. The cost of dental implants is often covered by insurance or there may be options for payment plans.
About Dr. Kevin Sands, Expert in Full Mouth Dental Implants
Dr. Sands is a graduate of USC and has continued his dental studies at the prestigious Las Vegas Institute for Advanced Dental Studies for Advanced Anterior Aesthetic Dentistry. He is currently a member of the California State Dental Association, the American Academy of Cosmetic Dentistry and the American Dental Association.
Individual implants are used to replace individual teeth, but patients who have lost most or all of their teeth can also benefit from full dental implants. Full implants are placed strategically in the arch to support a denture. Patients with inadequate bone structure may need mini implants, which require less bone tissue, but still offer the same protections of conventional implants.
Candidates for implants include:

Those with good general health
Those with no untreated dental disease
Non-smokers
Patients with chronic health problems that are well-controlled
Those who want permanent restorations
Because the implants preserve bone structure, the facial features will stay intact. This prevents the sagging and collapse that so frequently occur after tooth loss. Los Angeles dental implants dentist Dr. Sands can help patients understand the overall dental health and function benefits at a consultation. Visit http://www.dentalimplantlosangeles.net for more information.