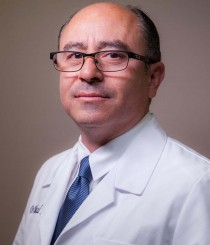 Houston, TX (PRWEB) December 14, 2016
Houston dentist, Dr. Behzad Nazari, announces that he is now offering a promotion on All-On-Four dental implants. Patients can currently get the treatment for $18,499, a significant reduction of the regular price. All-On-Four uses just four dental implants per jaw to mount permanent dentures. As a result, patients get stationary full-mouth tooth replacements without having to receive individual implants to replace all of their teeth. This approach can deliver several benefits compared to alternatives, such as removable dentures and bridges, depending on the goals of the patient.
All-On-Four uses conventional dental implants, which are made of titanium and inserted into the jaws to fuse with the bone tissue. Implants are known for their stability, which surpasses even that of real teeth. However, the relatively high cost and long recovery time associated with full-mouth implants drives many patients to choose dentures or bridges instead. The All-On-Four approach combines the lower cost of dentures with the firm, long-term dependability of implants. Patients can be confident knowing that their All-On-Four implants will stay in place during meals and conversations. While All-On-Four implants do require recovery time before permanent dentures can be attached, a temporary set of dentures is placed on the day of treatment so patients can begin to eat and speak properly right away.
Antoine Dental, the office of Dr. Nazari and his associates, performs a full selection of dental treatments. General dentistry, including cleanings, exams, and preventive care, is available. The office also provides cosmetic dental care, such as teeth whitening and veneers. Orthodontics is available, including Invisalign, the top option for discreet treatment. Patients can get a complete range of restorations, including inlays and onlays, and patients with tooth infections can receive root canal therapy at the office.
Dr. Nazari has been providing area patients with comprehensive dental care for eighteen years. Before becoming a dentist, Dr. Nazari was a registered pharmacist who earned his degree at Texas Southern University in 1991. Since earning his DDS with honors at University of Texas at Houston Dental Branch in 1998, he has completed extensive continuing education in the latest dental procedures and technology. Dr. Nazari is a reputable member of several dental organizations and continues to offer patients a broad range of high-quality care.