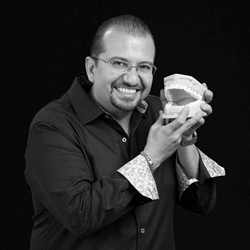 Huntington Beach, CA (PRWEB) January 19, 2017
Huntington Beach dental office, Center for Oral Health, is now offering treatments for patients with sleep apnea and TMJ disorders. These conditions are quite common particularly in midlife and can have far-reaching consequences for dental and physical health. Dr. Rassouli provides personalized care to reduce the risk of these consequences and improve overall wellbeing.
TMJ refers to the temporomandibular joint. This joint connects the lower jaw to the skull and is designed to hinge and slide to facilitate speaking and eating. Because of the complexity of the joint, any abnormality can lead to pain and dysfunction. Symptoms often include grinding, radiating jaw pain, earaches, neck pain, headaches, and an inability to fully open or close the jaw. Dr. Rassouli offers a variety of conservative and minimally invasive TMJ treatments to provide patients with relief from their symptoms and restore health to their jaw joints. Common treatments include:

Lifestyle changes
Medications
Stress management techniques
Prosthodontics
Bite splints
Dr. Rassouli also offers treatments for sleep apnea. This serious sleep disorder affects millions of Americans and can increase their risk of cardiovascular disease, type 2 diabetes, and depression. Symptoms often include loud snoring, gasping, or choking while sleeping, and waking up with a headache, dry mouth, or a sore throat. An oral appliance can be an extremely effective treatment option that maintains an open airway and prevents the collapse of soft tissues that obstructs breathing during sleep.
The Center for Oral Health is a comprehensive dental office that offers dental implants, periodontal care, one-visit crowns, teeth whitening, porcelain veneers, and preventive care. "We use the latest technology and incorporate the most advanced materials into our practice," Dr. Rassouli's team says. "Every member of our team is fully committed to your comfort and your smile."
About Dr. Rassouli
Dr. Rassouli is a co-founder of the South Coast Dental Academy, an organization committed to providing Orange County-area dentists with advanced educational opportunities. A graduate of USC, Dr. Rassouli worked tirelessly on the Accreditation Committee, and has been recognized for his leadership skills and academic achievements. After graduation, he served on USC's prestigious Century Club.