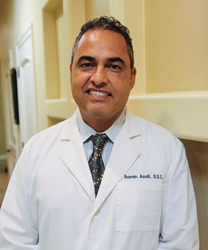 Northridge, CA (PRWEB) February 14, 2017
Northridge dentist, Dr. Ramin Assili, announces that he is now offering pediatric dental consultations for a limited time. Dental consultations open the door to overall dental care, which is especially important for pediatric patients. Consultations include an exam, which may reveal oral health issues that require treatment, as well as an assessment of any dental history. All kids should receive their first dental exams in their first year of life. Through regular visits to Dr. Assili, kids will be more likely to build healthy dental habits and enjoy a healthier, better-looking smile throughout life. To learn more about this limited-time consultation, please visit their website.
Children's dentistry includes exams as well as preventive and restorative care. During routine exams, not only oral health problems but also certain systemic issues may be found. Preventive care is particularly important for children. Prescription-strength fluoride can supplement fluoride found in toothpaste and tap water to give kids maximum protection against cavities. Sealants can also be applied to the teeth, shielding the enamel from bacteria and dietary acids. Several restorations are available, but fillings are the ones most commonly used for kids. Orthodontic assessments can determine whether kids need braces, which can improve appearance and oral health and even optimize oral development.
Many treatments for patients of all ages are offered by Dr. Assili. A wide range of restorations is available, including tooth-colored fillings, inlays, onlays, and crowns. Laser dentistry is also offered at the office as part of several treatments. Eligible adults and older adolescents can receive Invisalign, a treatment known for its virtual invisibility. The office provides several other services, including sedation dentistry and dental treatments for sleep apnea and TMJ.
Dr. Ramin Assili earned his undergraduate degree in Biochemistry at California State University, Northridge in 1988 and his DDS at University of California, Los Angeles in 1992. A member of several organizations in his chosen profession, Dr. Assili has completed more than 500 hours of additional training since graduating, increasing the number of treatments he can offer patients. A specialist in cosmetic dental care and dental implants, Dr. Assili has completed a surgical residency at the renowned Misch International Implant Institute.