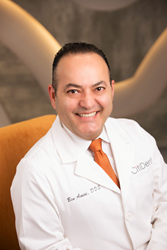 San Francisco, CA (PRWEB) January 16, 2017
San Francisco dentist, Dr. Ben Amini, the founder at CitiDent, announces the incorporation of iTero Element, the latest in 3-D scanning device which is capable of taking digital impressions of teeth and gums. Conventional bite impressions have lagged behind some of the latest advances in dentistry, such as CAD CAM restorations, in terms of speed, efficiency and patient comfort. Increasingly, digital impressions are being used to capture images of the teeth and gums from all angles to use for planning treatments from creating restorations to Invisalign aligners. iTero Element, a small wand that is inserted into the mouth, creates detailed digital 3D images of the teeth and gums that can then be used to design and modify a treatment plan that best suits the patient. At the same time, patients benefit from the improved accuracy of treatment results, including greater comfort and aesthetic appeal.
Several treatments benefit from iTero Element, from Invisalign, which relies on personalized esthetic aligners, to CAD/CAM restorations, which are milled on site in a single visit. More patients are choosing same-day restorations produced this way. With the combination of digital bite impressions and CAD/CAM milling, eligible patients can get veneers, dental implants, crowns, inlays, and onlays in a single appointment. The iTero Element wand combines optical imaging with a laser to produce precise images, allowing for comfortable lifelike restorations. The entire process is also easier for patients who do not wish to endure inconvenient conventional bite impressions.
About Dr. Ben Amini
Dr. Amini attended University of California San Francisco School of Dentistry, where he graduated in 1996 and obtained his DDS degree. An assistant clinical professor at his alma mater and a reputable member of many local and international organizations in his profession, Dr. Amini offers a complete range of treatments at CitiDent, including general, cosmetic, and implant dentistry, periodontics, emergency dentistry, and tooth replacements. A full selection of orthodontics is also available thru a team orthodontist at CitiDent. They include Invisalign, esthetic metallic braces, lingual braces, and others. Alongside his personally trained associate dentists, Dr. Amini focuses on giving patients of all ages the latest choices in dental technologies.