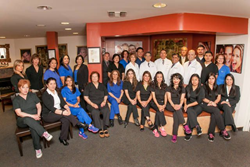 Van Nuys, CA (PRWEB) September 22, 2015
Van Nuys dentist, Dr. Reza at Hamlin Dental Group, is pleased to now announce a special back-to-school promotion on braces. For a limited time only, patients can get $500 off of the cost of braces. Qualified patients can also take advantage of the no-interest payment plans that include low, affordable monthly payments.
"At Hamlin Dental Group, we used advanced dental technology to ensure our patients receive the highest quality treatments available. Your comfort is our top priority, and we have designed our office with that in mind. We want to make sure your visit to our office is pleasant and comfortable," states the team at Hamlin Dental Group. Van Nuys and North Hollywood dentist, Dr. Reza, is offering $500 off the cost of braces to send kids back to school with healthier smiles.
Braces are not just for kids, though. In fact, the most modern options for braces can be great choices for adults, too. It is never too late to get a healthier smile, and braces are one of the best ways you can do that. Braces are designed to bring the upper and lower jaws into alignment, as well as correct the positions of teeth. All in all, braces can make teeth easier to clean, which leads to better dental health. While this is the biggest benefit, they can also give patients a more attractive smile.
"A great smile starts with a great dentist," according to Dr. Reza's team. Luckily, the dentists at Hamlin Dental Group are at the top of their fields. They offer comprehensive dental care that includes not only orthodontic treatment, but it also includes fillings, root canal therapy, dental surgery, periodontal therapy, porcelain crowns, teeth whitening and porcelain veneers.
About Hamlin Dental Group
Dr. Hamid Reza, Van Nuys Invisalign and braces expert, believes that high-quality dental care should be available to everyone who needs it. He has more than two decades of experience in dentistry and is committed to providing comprehensive dental care to his community. His team of dental experts includes an orthodontist, a dental surgeon, a periodontist and a dental anesthesiologist. Dr. Reza is an active volunteer who offers dental information and services to youth programs, shelters, senior homes and other community programs. His team can serve patients with diverse language needs, including Farsi, Spanish, German, Arabic and Armenian.