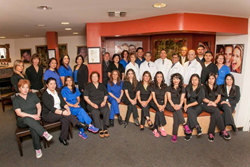 Van Nuys, CA (PRWEB) September 23, 2016
Dr. Leyli Aminian is now joining the team at Hamlin Dental Group. Dr. Aminian is a pediatric dentist who will provide dental care to younger patients. She has more than two decades of experience and the skills necessary to provide children with the specialized dental care they need.
Pediatric dentistry is an important specialty. Children are not merely small adults. They have unique dental health needs that require a special touch. Dr. Aminian, dentist in Van Nuys, offers general dentistry for pediatric patients, which includes:

Dental cleanings and checkups
Preventive treatments
Restorations
Dental crowns
Pulpotomy
Dental extractions
Dental restorations
Emergency dental treatments
Orthodontics, including braces
Parents are advised to bring their children to a dentist by the time their child has a tooth, or reach twelve months old. After this, children need regular checkups about every six months. These checkups are critical for maintaining good dental health, but they also help kids develop healthy dental habits and the skills to maintain them throughout life.
Hamlin Dental Group is a multi-specialty dental practice that offers comprehensive dental care for the whole practice. They offer digital dental X-rays, dental fillings, smile makeovers, dental implants, dental veneers, porcelain crowns, teeth whitening, dental bridges, periodontal treatments, orthodontics, and dental extractions.
"We use advanced dental technology to ensure our patients receive the highest quality treatments available," the team said. "The comfort of the patients is our top priority and we have designed our office with that in mind. We want to make sure your visit to our office is pleasant and comfortable." They even offer a pediatric waiting area with kid-friendly activities, reading material, and fun wall murals to keep children feeling relaxed and happy while they wait.
About Hamlin Dental Group
Hamlin Dental Group was founded by Dr. Hamid Reza in 1994. Dr. Reza is a member of the American Dental Association and the California Dental Association. He offers preventive, endodontic, cosmetic, and periodontal dentistry. He works with Dr. Garemani, Dr. Koshkerian, Dr. Yessaian, Dr. Woo, Dr. Wang, Dr. Vafadar, and now Dr. Aminian. The multilingual team speaks English, Spanish, Arabic, Farsi, Armenian, German, French, and Turkish.