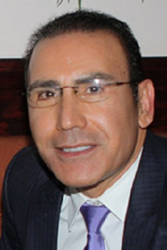 Van Nuys, CA (PRWEB) December 22, 2016
Hamlin Dental Group is now offering laser dental treatments. Lasers can be used for both soft and hard tissue applications. They use targeted light energy to perform precise treatments without affecting surrounding tissues. Lasers are capable of sealing blood vessels and nerve endings almost immediately, which lessens post-operative bleeding and pain.
Dr. Hamid Reza can use dental lasers to treat a variety of dental problems, including:

Sensitive teeth
Canker sores
Cold sores
Periodontal disease
Denture sores
Sensitive teeth
Root canal treatment
Teeth whitening
Dental fillings
They are also used in some whitening treatments for precision and speed. Dentists often use them similarly as traditional dental tools by removing diseased tissues. Conventional dental treatments are also available, including porcelain crowns, porcelain veneers, digital dental X-rays, dental extractions, dental implants, and orthodontic treatments.
"A great smile starts with a great dentist," says Dr. Reza's team. "At Hamlin Dental Group, we use advanced dental technology to ensure our patients receive the highest quality treatments available." This includes treatments using dental lasers, which reduce the need for anesthesia, eliminate oral bacteria, and speed healing, as well as digital dental X-rays, which offer a virtually immediate and endlessly customizable view of a patient's teeth.
Financing is available for qualified patients, and most insurance plans are accepted. Dr. Reza and his team work with patients to create personalized treatment plans that address individual needs and goals. The dental office is designed with patient comfort a priority. Dental sedation is available through an anesthesiologist, who can ensure the utmost in patient safety throughout the treatment process.
About Dr. Hamid Reza and Hamlin Dental Group
Dr. Reza works with a team of top dentists and dental specialists. Drs. Koshkerian, Garemani, Vafadar, Wang, Woo, Aminian, and Yessaian provide general dentistry, orthodontics, dental surgery, periodontics, pediatric dental care, and dental anesthesia. With more than two decades of experience, Dr. Reza provides comprehensive dental care to patients of all ages with skills you can rely on. Hamlin Dental Group includes a multi-lingual team who can serve patients who speak Arabic, Armenian, German, Farsi, Spanish, and English.