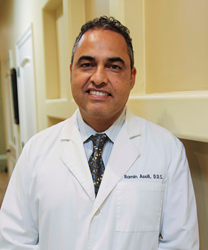 East Los Angeles, CA (PRWEB) October 07, 2016
East LA dental office, Smiles LA, announces that they are now offering several treatment options for TMJ and sleep apnea. TMJ, or temporomandibular joint disorder, affects the joints connecting the jaw to the skull, causing pain and debility. Sleep apnea, a condition involving disordered breathing during sleep, commonly causes fatigue, depression, and can even be deadly. Dr. Assili has completed specialized training to resolve TMJ and sleep apnea disorders, allowing him to provide patients with the latest solutions to these conditions.
The dental options for treating both TMJ and sleep apnea are now numerous. TMJ is addressed in several ways depending on its cause. When mechanical problems in the jaw joint become damaged or inflamed, treatment may consist of a wearable splint or oral appliance that reduces strain and helps normalize jaw positioning. Orthodontics or modification of the teeth disturbing the bite can also be beneficial in these cases. Surgery, such as arthrocentesis and arthroscopy, can also be used to address the jaw joints directly. Dental treatments for sleep apnea include oral appliances and soft tissue removal surgery. Whereas the surgery involves widening the airway, oral appliances work by keeping the lower jaw and tongue from collapsing backwards and blocking the airway during sleep.
Many different treatments are provided at the office of Dr. Ramin Assili. General dentistry, such as cleanings and exams, is available along with restorations, including fillings, inlays, and onlays. Cosmetic procedures, such as teeth whitening and veneers, are also available. The office also provides orthodontics, including Invisalign, for bite correction. Periodontal care to treat the different stages of gum disease, and endodontic treatment for infected teeth are also offered. Other available options include children's dentistry, dental sedation, and wisdom tooth removal.
Dr. Ramin Assili graduated from California State University, Northridge, with his degree in Biochemistry before earning his DDS at the UCLA School of Dentistry. Having also graduated from the Misch Implant Institute, Dr. Assili is highly skilled in dental implantology. Dr. Assili is a reputable member of several organizations in his field, and he strives to give patients healthy, great looking teeth and gums with the latest dental techniques available.