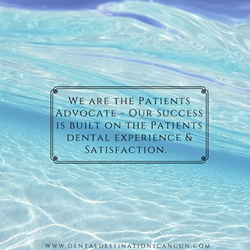 Dental Tourism to Mexico is a very popular decision for thousands of patients each year who not only are able to save up to 60% on their dental work but combined with a vacation can still be better off financially than just staying at home to do the work.
Cancun, Quintana Roo (PRWEB) July 27, 2017
Below are some tips that we have put together to help anybody looking at the options of traveling for Dental work. Through our years of working and helping patients connect with the best dental specialists in Cancun & Riviera Maya, we came across very similar questions and preconceptions, so with just a couple of the most common themes we hope they can help you better prepare for your Dental Tourism Mexico Experience.
Reviews and positive feedback are a great resource for narrowing down a dental clinic you want to visit, but it is always prudent to take into account the type of treatments and procedures the reviews are based on – a great 5 star review from a patient who has received a cleaning is good but does that mean the clinic is able to complete a dental implant? A complicated root canal therapy or a full mouth rehabilitation?
TIP
Find a clinic that has marked understanding and history of providing the specific treatments you are in need of.
Testimonials
In the same category as reviews, testimonials are a useful tool at your disposal to see what real people's experiences were at a given clinic.
Testimonials that are taken straight after a patient has received treatment are not the most reliable types. Imagine after various treatments and time in the chair they will be happy it is over, impressed with the look of new white crowns, and believe any discomfort or pain is normal straight after dental procedures.
TIP
Look for testimonials that are taken months after the treatments, or ask to be put in contact with previous patients who have had months elapsed from their visits so you can get a real feel for the after care, quality of follow ups, problem handling and so on.
Before and Afters
Dental Before and After photos look dramatic and very impressive, when comparing photos of badly decayed teeth, missing teeth to a new set of crowns, dentures and so on. But if you have not had any dental training you may not be aware of the details a trained specialist would easily note.
TIP
If you are interested in a dental clinic and are impressed by their before and after galleries, ask your dentist for their professional opinion on the afters – they will be able to view them in a unbiased clinical and professional manner and point out if the work is good, or if in fact there are issues not noted by the untrained eye like poor occlusion, open margins, poorly fabricated pieces and any incorrect or anatomically below par prosthesis.
Costs
You want to know the cost of a treatment, simple really? Often a list of treatments can be presented to a patient with prices, but each and every treatment comes with a set of variables and this can change the treatment plan, costs and visits.
TIP
Especially if you are planning on traveling for dental work it is recommended (and part of our protocols) that you invest in having as much corroborating information about your case as possible such as treatment plans, X-rays, CT Scans and so forth. It is much better to prepare correctly and have your case presented as fully as possible so the clinic can present you with a much more accurate breakdown of treatments, timelines and costs. Many clinics will just give you the cost of a treatment but not go into the possibilities of other secondary treatments that can arise or risks involved.
You do not have to be a dentist but getting yourself informed and aware of what needs to be done will eliminate many unwanted surprises and additional expense.
Your Dentist
You have chosen a clinic based on the information and reviews of a specific dentist, You have researched their resume, confirmed their specialties and spoke to previous patients who have received the treatments you are in need of by the dentist presented. You are excited and arrive to your appointment only to speak with the dentist you understood would be working on your case and have another dentist work on you.
TIP
If your decision to use a dental clinic was based on the belief that the dentist presented would be working on you and your dental treatment needs then you have the option to cancel the planned treatments, ask why they are not performing the work and receive a satisfactory answer, ask for the dentist to perform your work, or seek an alternate dental clinic and specialist to work on you.
At no point should you ever feel pressured or uncomfortable about the dental specialist who is to perform your work. It is your health, appearance and at your discretion who treats you.
Quality of the Laboratory
It is very common for dental clinics to invest tens of thousands of dollars into new laboratory equipment, milling machines, laser cutters, and 3d imaging. But at the end of the day a laboratory needs to have the cohesion of talented experienced technicians who work fluidly with experienced and talented dentists, for all of the expensive machines and gadgets are pointless without the right people to work them, and even then the humble plaster cast mold is still hailed as the best point of reference for dentist and laboratory.
TIP
Any professional and experienced dentist will not put their patients and their name / reputation to substandard laboratory work. So, if you are comfortable with the dentist and would like to know more about the partnered laboratory they work with or have, ask to see different work they have performed, the different types of materials, the guarantees they have and this should hold you and your dental work well.
Miracles happen on 34th street, not in a dental clinic
This is technically not true, as thousands of patients who have gone through life changing dentistry will attest to the "miracle" changes after suffering a lifetime or years worth of constant pain, having no teeth contributing to poor dietary intakes, feeling self conscious and unhappy with their appearance. In fact, the miracle was performed by many an unsung hero wearing a mask and waving a very small mirror.
TIP
What we are saying is that when you looking for dental work in another country, the way you handle your expectations will hold you in great stead. If a clinic is promising a full mouth of new dental crowns and returning home in only 7 days smiling away, be prepared to be somewhat disappointed. Approach the reality of ensuring you do not unnecessarily rush through work and end up sitting in a dental chair for 8+ hours everyday. Plan longer than you are told to, ask to have a schedule of your appointments, ask what to expect each appointment, and for a rough time spent for each visit. There are many treatments that can be completed within much shorter waiting periods than those offered by your home town dentist, but certain treatments will have to be approached and performed in similar time constraint manners.
Fix my problem from afar
Dentistry is an ever evolving science. Each persons case is unique and although treatments can be similar the health conditions of the patients vary, lifestyles, accidents, health problems etc. So while traveling for dental work is a fantastic option for thousands of people, it is important to remind yourself that problems can and often do arise with all types of dental work no matter how well prepared and performed they are. Crowns over implants can become loose due to the screw, dental crowns can fracture, implants can be rejected, root canals can fail. This is when you need to reminder yourself that the clinic you have chosen is not around the corner, on the contrary it is another Country. And this should be a major factor in your decision making when deciding on destination and location.
TIP
As mentioned before, being aware that the clinic is in another country and understanding that the possibility of failed treatments can mean a return visit to the dentist. The likelihood of a tourism clinic paying to fix any common issues or problems (which have been explained prior) you may have back in your home country will be low to none.
Avoid such confusion and angst by asking the clinic before embarking on a treatment plan what actions are they willing to do if a problem arises, what would you need to do, and what specialist would you have to visit. The majority of clinics will have in place some kind of guarantee or warranty on their work, but this is usually based on the patient's acceptance and understanding they would need to return to that clinic to have the work redone or fixed.
Prothesis / Clinical Guarantees
Most clinics will be happy to provide clinical warranties and guarantees for certain treatments. Some even go as far as saying they will provide guarantees for 10 years on their work, which from a prospective patient's point of view is a very reassuring offer.
TIP
We suggest that any patient who is being offered such guarantees checks the history and background of the dental clinic i.e. how long have they been operating. That is not to say newer clinics are not capable or wanting to honor such guarantees, but dental clinics like any business (and it is a competitive business) unfortunately come and go, owners change hands, relocate, change names or, worst case scenario, close for good.
If a clinic is offering a 10 year guarantee on their work and has only been operating for 1 or even 2 years, it is best taken into account in your decision making that the 10 year offer may not be a viable recourse years down the line. If this is a big part of your decision on choosing a dental clinic, we suggest look for established clinics with many years of operating as this suggests a continued commitment to patients which adds validity to such offers.
Reputations
It is common that when you research clinics, they will state they are the best, the leaders and have the best quality materials and cheaper prices. We all do it to some extent as this is what most clinics think a patient wants to hear, and in most respects that is correct. No one is going to choose a healthcare provider that says they are average! They want them to be confident. But there are many that believe their own hype – the internet is a source we all use and readily rely on on a day to day basis and with that, big marketing budgets, flashy websites, images and videos are sent streaming to your device when searching for your desired topics of interest. It is also a common practice to employ reputation management companies to ensure any unflattering reviews or comments made about a company are removed or lowered down the search engine rankings.
TIP
Well, we certainly cannot say do not use the internet, Then what would you do? We suggest taking everything you read or see to be taken with a little "pinch of salt" so to speak. The internet is an abyss and a place where reality can get, shall we say, somewhat distorted. 1 bad review of a clinic does not mean they are no good, the same as how 10 good reviews does not automatically make a clinic the best option. If you see similar patterns emerging that may indicate a positive or a negative trend for that clinic, judge for yourself and use your gut instinct. Due diligence and research will be your best tools and following our section of how to do this will also help.
The fact is we invest our time and knowledge into this service and our success comes largely from word of mouth, we try to be a respected source of information and assistance.
If you are wanting some real and genuine help from people who have spent years doing nothing else but working, learning and trying to perfect the service so you know more about the options of affordable dentistry to Cancun, Riviera Maya & Mexico, we are just a quick email away.