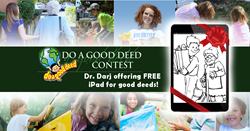 Rewarding good behavior can shape a child's character for life
El Paso, TX (PRWEB) April 01, 2015
El Paso dentist, Mehrnoosh Darj wants to encourage youths in her area to do good deeds in their community. By rewarding such behavior, Dr. Darj intends to strengthen their characters' and teach them to be kind and compassionate when they grow up. She believes this to be the basis for a healthy, rewarding life.
Her philosophy is simple and based on classic conditioning, a basic psychological theory. Reward good behavior now and a child will continue to do good deeds in the future. "Rewarding good behavior can shape a child's character for life" says Dr. Darj.
She set out to accomplish this by launching a Good Deed Video Contest. The contest is open to any youth 18 years of age and under. All videos need to be submitted by April 19th with the winner announced shortly thereafter.
In the videos, the youths are encouraged to tell a story about a good deed and explain what encouraged them to do that. The deeds can be either small or large, from helping someone crossing the street to feeding the homeless. The contestants are encouraged to be creative, not only in their choice of good deed but also in their video essays.
Children are urged to join the Good Deed Video Contest by visiting her Facebook page or website. The winner receives a new iPad.
"It's kind of a cliché, but it's true. Children are our future," says Dr. Darj. "If we can start early in helping these little ones choose between right and wrong, then the possibilities are endless."
Earlier this year, Dr. Darj held another community event that offered free dental care. Over 200 people came in a span of two days to receive complimentary emergency dental treatments. "We were able to treat a total of about 200 patients offering them various procedures ranging from dental fillings to extractions and cleanings," said Dr. Darj. "At the end of our last event, there were more people beyond our capacity to see. We gave rain checks for them to come back."
Details of Dr. Darj's Good Deed Video Contest can be found here: http://dentistryelpasotx.com/