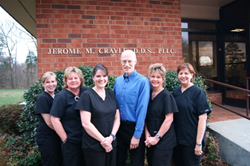 Periodontal disease is associated with conditions such as cardiovascular disease, diabetes, kidney problems, and problems in pregnancy.
Graham, NC (PRWEB) July 29, 2014
In a recent interview at his office, Graham, NC dentist, Jerome Crayle revealed the more serious consequences of untreated periodontal disease. He explained how patients could save their lives, not just their teeth, when they pay close attention to their oral health.
In most cases, dentists encourage patients to get screening and treatment for periodontal disease to avoid losing their teeth. Even so, tooth replacement has come a long way and there are several suitable and affordable solutions to tooth loss should it occur.
Unfortunately, periodontal disease, which indicates the presence of an infection in the gums, could also lead to a host of other serious and sometimes fatal problems in the body, including blood infection, heart disease, and low birth-weight in newborn babies.
According to findings from the Centers for Disease Control and Prevention (CDC), over 47 percent of American adults over 30 years old have mild, moderate or even severe periodontitis, which is the more advanced form of gum disease.
The CDC data also indicated that 64 percent (nearly two-thirds) of adults above the age of 65 had various forms of periodontal disease ranging from moderate to severe.
The American Dental Association (ADA) promotes the importance of good oral hygiene and regular dental care. It also encourages dentists to take thorough health histories, evaluate patients for oral disease, and identify risk factors that may predispose them to periodontal disease.
Jerome Crayle, dentist Graham, believes the reason why some dentists do not emphasize on the more serious risks of untreated gum disease is because such problems vary between patients, with some not experiencing any of these adverse effects.
"In a general sense, patients are susceptible to a lot of other serious risks from untreated periodontal disease. Studies have shown that periodontal disease is associated with conditions such as cardiovascular disease, diabetes, kidney problems, and problems in pregnancy," said Dr. Crayle.
"As a result, we want to prevent as many problems as we can, so we encourage treatment if the disease is present, and prevention so we don't have to treat the disease later or deal with its adverse and possibly fatal consequences," he added.
The Graham, NC dentist has been practicing dentistry for thirty years and uses his education and years of experience to ensure that each of his patients enjoys optimal dental health.
"I advise the public to not take what they have read here about gum disease as a diagnosis for their dental condition. There is no substitute for getting that checkup and examination from a qualified dentist," Dr Crayle said.
Dr. Crayle's dental services are available to residents of Graham, Swepsonville, Alamance, Snow Camp, Saxapahaw, Mebane, Burlington, and Haw River, NC.
He is currently offering a dental cleaning and exam package at only $77 (regular price $200) to encourage more patients to get preventive care. For more information, visit http://dentistgrahamnc.com/.