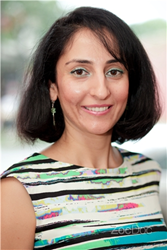 The kids still get to experience the fun of trick-or-treating, but with the added benefit of growing their piggy banks and sparing their teeth and gums unnecessary strain from all the candy
Maspeth, NY (PRWEB) October 27, 2014
This Halloween season, Maspeth NY dentist Dr. Alexandria Khaimov is leading an anti tooth-decay movement by giving away dollars in exchange for the excess candy collected from trick-or-treating.
Starting November 3rd to November 7th, trick-or-treaters that bring in their excess candy will receive $1 for each pound of candy.
Dr. Khaimov is passionate about encouraging proper oral health among the children in her community.
"The kids still get to experience the fun of trick-or-treating, but with the added benefit of growing their piggy banks and sparing their teeth and gums unnecessary strain from all the candy," says Dr. Khaimov.
It is no secret that children around the world love candy. In fact, the global sugar consumption for kids increases by about 2 percent each year, and by 2013, it had reached 50 million tons.
These figures only confirm the fact that parents have a more difficult task of ensuring their children's teeth are well cared for. In addition to hurting their teeth, candy also leads to hyperactivity and weigh gain in children. Broken teeth and damaged braces are also common phenomena among young candy eaters.
Dr. Khaimov's Halloween Candy Buy Back is in its third year, having experienced significant success so far. This year, Facebook fans get an extra dollar for every pound of candy they bring by simply sharing Dr. Khaimov's Halloween Candy Buy Back Facebook message.
Parents and their children can drop off their candy at her Maspeth dental office (Grand Smile Dental, 69-77 Grand Ave, Maspeth NY 11378) from November 3rd to 7th during office hours.
Dr. Khaimov will also be mobilizing a Holiday Coat Drive in which she encourages the members of her community to donate coats and jackets they no longer need. This is to help meet the demand for warm coats this winter.
Dr. Khaimov proudly serves the residents of Brooklyn, Ridgewood, Middle Village, Woodside and Maspeth. Visit http://DentistMaspethNY.com/ for more information.