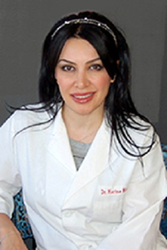 Glendale, CA (PRWEB) February 10, 2016
Emergency rooms provide emergency care to stabilize critical health issues, but emergency dental care can be harder to find. Unfortunately, this can leave patients with dental emergencies at risk of losing a tooth or their smiles. Dr. Marine Martirosyan, dentist in Glendale, is now offering emergency dental care.
Common dental emergencies include:

Avulsed or knocked-out teeth
Dislodged teeth
Abscessed teeth
Oral infections or soft tissue injuries
Lost fillings or crowns
Toothaches
A dental emergency can be a frightening event. Stabilizing the patient is critical. In some cases, as with an avulsed or dislodged tooth, timing can make the difference between saving and losing a tooth. For this reason, emergency dental services are vital. Dr. Martirosyan, Glendale emergency dentist, is making emergency dental care easier to access for patients throughout the Glendale area. Avulsed teeth can often be replaced in their sockets and allowed to heal. Emergency root canals can save abscessed or dislodged teeth. By seeking care immediately after a dental emergency, patients can minimize the risk of tooth loss or other serious dental problems.
Dr. Martirosyan's office offers full-service dentistry for the whole family. "You will notice that we are unique from the minute you walk into our dentist's office … our staff will win you over with their helpfulness and friendliness in addressing all your needs from insurance processing to prompt attention to emergencies," Dr. Martirosyan's team explains. "Dr. Martirosyan has a high standard of care and attention to detail in her work, giving you a smile like no one else."
With pediatric dentistry, preventative care, cosmetic dentistry, restorative dentistry, braces and orthodontics, patients can correct long-standing problems, prevent new problems and transform their smile into something they are proud and eager to share.
About Dr. Marine Martirosyan, Pediatric Dentist Glendale
After graduating from the University of Southern California, Dr. Marine Martirosyan continued her studies at the prestigious Las Vegas Institute for Advanced Dental Studies. She was later a clinical faculty member at SCU and was recognized with a Lifelong Learner Award. Dr. Martirosyan is a member of the American Academy of Dental Sleep Medicine, the American Academy of Cosmetic Dentistry, the American Dental Association, the American Academy of Laser Dentistry and the Academy of Osseointegration.