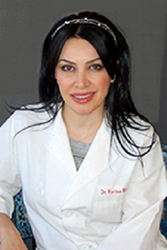 Glendale, CA (PRWEB) April 19, 2016
Pacific Dental Care is now offering a special promotion on braces. This special features $1,000 off the cost of comprehensive treatment, and it expires June 30, 2016. Some restrictions may apply.
Orthodontic treatment can help patients achieve straight smiles that are properly balanced, easy to use, comfortable to share and easy to clean. For patients with malocclusions or misaligned teeth, orthodontic treatment can significantly reduce the risk of long-term dental problems.
Common problems that indicate the need for orthodontics include:

Gapped teeth
Crowded teeth or teeth that are overlapped
Teeth that are crooked or tilted
Crossbite
Overbite, which means the upper teeth jut past the lower teeth
Underbite, which means the lower teeth jut past the upper teeth
Dr. Martirosyan is a skilled dentist who offers services for the whole family, including not just orthodontic care but also comprehensive dentistry. Patients who are searching for a dentist are often pleased to discover that she offers general dentistry, restorative dental care and cosmetic dentistry. She offers dental fillings, fluoride treatments, dental sealants, porcelain crowns, Lumineers, porcelain veneers, partial crowns, indirect fillings, sleep apnea treatments, treatments for TMJ disorders, emergency dental care, canker sore treatments, teeth whitening and tooth jewelry.
About Dr. Martirosyan
A popular pediatric dentist, Dr. Marine Martirosyan graduated from the University of Southern California in 1996 and has been trained at the Las Vegas Institute for Advanced Dental Studies. A clinical faculty member at the University of Southern California, Dr. Martirosyan is passionate about education and was recently recognized with the Continuing Education Lifelong Learner Award. She is passionate about her patients, and she maintains the highest standard of care and attention to detail with every smile she treats. Today, Dr. Martirosyan is a member of the American Academy of Dental Sleep Medicine, the American Academy of Cosmetic Dentistry, the California Dental Association, and the American Dental Association. She is also a member of the American Academy of Laser Dentistry and the Academy of Osseointegration.