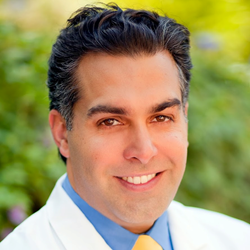 Agoura Hills, CA (PRWEB) December 07, 2015
Dr. Aaron Choroomi, dentist in Agoura Hills, recently explained the importance of passion for excellent dentistry in an interview with PowerAgent News. The interview details the passion of Dr. Choroomi for helping patients achieve the healthiest, best-looking smiles possible. Driven to seek perfection in the materials and techniques he offers, Dr. Choroomi has built a successful dental practice offering a full range of restorative and cosmetic dental procedures. Today, Dr. Choroomi operates three locations to serve more patients in his region.
As a focal point for social interaction, a smile can attract or repel depending on how it looks. Meanwhile, a painful smile marred by dental problems can also dramatically reduce quality of life. Dr. Choroomi, dental makeover dentist, understands the value he imparts to patients when he restores their teeth. In his interview, Dr. Choroomi recognizes the power of his work to change lives and expresses his passion for maximizing results at Agoura Dental. While Dr. Choroomi does mention skill and experience as being important for excellence in his profession, he says that passion is also crucial for providing the very best care to patients.
Patients who visit Agoura Dental can choose from a full selection of dental treatments, both restorative and cosmetic. Tooth-colored fillings, inlays and onlays are available for repairing damaged teeth. For aesthetically flawed teeth, patients can ask Dr. Choroomi about teeth whitening, veneers or crowns. Smile makeovers are also available, letting patients gain personalized cosmetic care recommendations and conveniently scheduled treatment plans. Patients at Agoura Dental have access to bridges, dentures and dental implants for replacement of missing teeth.
About Dr. Aaron Choroomi, Holistic Dentist
Agoura Hills dentist Dr. Aaron Choroomi earned his DDS from the renowned University of the Pacific Arthur A. Dugoni School of Dentistry in San Francisco. Throughout the ascent of his career, Dr. Choroomi has continued to build his knowledge and keep it current through continuing education courses in several dental specialties. Patients who visit Agoura Dental enjoy the compassion and friendly manner of Dr. Choroomi, who strives to make treatment comfortable for every individual. Outside of the office, Dr. Choroomi enjoys spending time with his family and working with charities to improve the lives of those in need.