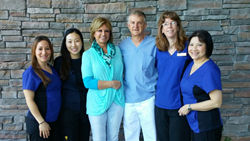 Agoura Hills, CA (PRWEB) December 14, 2015
Dentist in Agoura Hills, Dr. Philip Shindler, is now incorporating the latest dental technology into his office so that he can offer even more effective dental treatments to his patients. Dental technology has advanced rapidly over the last several years and is making it easier than ever to spot early dental issues and protect smiles from serious damage.
Some of the options now available through Dr. Shindler's Agoura Hills office include:

Patients get a secret weapon against cavities when they choose CariFree. CariFree fights the underlying bacterial infection responsible for tooth decay and is a great addition to any dental hygiene regimen.
Kor Whitening is a revolutionary teeth whitening system that lightens the color of teeth 10 or more shades. The system uses special bleaching trays and a delivery system that allows the whitening gel to remain active for six to 10 hours compared to the usual 25 to 30 minutes.
Also known as same day dentistry, E4D technology allows Dr. Shindler to make and prepare dental restorations in a single appointment.
Dr. Shindler and his staff offer a wide range of dental treatment options including preventive care, restorative care, Invisalign and cosmetic treatments. The entire office has been designed with patient needs in mind. "Each view provides a tranquil view of nature to put you at ease. Instead of making your biannual visit feel like a chore, we want you to feel like you are going to a resort," according to his team.
About Dr. Philip Shindler, Expert in Dental Veneers Agoura Hills
A native of South Africa, Dr. Shindler attended the prestigious WITS University before immigrating to California in 1981. He then attended UCLA, where he completed a postgraduate program in dentistry. Since then, Dr. Shindler has taken a variety of continuing education courses and focused on expanding his skills and knowledge to better serve his patients. He is currently a member of the American Dental Association and the California Dental Association, and he volunteers at the Wildlife Waystation.