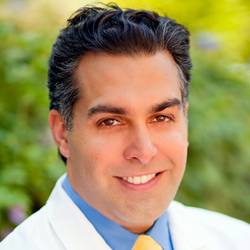 Canoga Park, CA (PRWEB) April 21, 2015
Dr. Aaron Choroomi, dentist in Canoga Park, and the team at 101 Dental Group are now offering a valuable discount on restorative dental implants. The dental implant, abutment, and crown are included in the promotional price of only $1695 for a limited time. This is only one of many different specials available to patients for a limited time.
"There are times that we see patients turn down cosmetic treatments simply based on the price," dental implants dentist, Dr. Choroomi, stated. "By offering different seasonal specials, our patients can take advantage of the opportunity to beautify their smile for less than the normal cost."
Other current promotions include discounts on the following treatments:

Deep cleaning
Professional cleaning, polishing, examination, and x-rays
Complimentary smile makeover picture
Fastbraces
Zoom whitening
Porcelain crowns
101 Dental Group gives patients multiple reasons to regularly visit with a professional to maintain health and cleanliness. A lower price on a regular cleaning and examination is enough to pull in the interest of a person that would otherwise go without the necessary oral attention. Anytime the dentist is able to establish that a patient is adequately healthy, the world of cosmetic options is opened up.
"We are advocates for patient health, but we also care about the way they feel about the appearance of their teeth," Dr. Choroomi, holistic dentist, said. "The first step is to fix any problems so that we're able to begin working on creating a more beautiful smile."
Implants, crowns, bridges, Zoom whitening, Fastbraces, and porcelain veneers are only a few of the cosmetic treatments available. Decay removal, fillings, and other steps may be required before it is possible to move forward with simple improvements or a total smile makeover. The dentist offers personalized solutions that are created once he is able to compare the current condition of teeth with the specific aesthetic goals of the patient. No condition is too complex to improve, especially if the patient is willing to actively participate in maintaining their oral health and any restorations. Visit http://www.dentistcanogapark.com for more information.