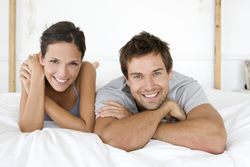 Los Angeles, California (PRWEB) April 28, 2014
In conjunction with the upcoming Mother's Day celebration, Around the Corner Dental Health Spa has unveiled several promotions, one of which is a Zoom! teeth whitening session for only $129.
Helmed by Dr. Kaveh Kanani D.D.S., a popular family dentist Woodland Hills, this promotion was put in place to honor mothers all over the country. According to this Woodland Hills dentist, treating one's mother to good oral health is one of the best gifts that an offspring could offer as a thank you. Dr. Kanani is staunch in his belief that everyone should have access to good dental care and that there is no time like the present to ensure that mothers are treated to affordable dental procedures.
As a well-established periodontist, Dr. Kanani is skilled in oral surgery, particularly inserting dental implants. His vast skill sets have made him one of the top family dentists Woodland Hills. Besides the aforementioned procedures, Dr. Kanani and his team at Around the Corner Dental Health Spa also offer the following dental operations.
Crowns
The purpose of crowns are to cover and protect damaged teeth. Dr. Kanani often places crowns on teeth that have been badly damaged. Some examples of damaged teeth include those that are broken, stained, poorly shaped or misaligned. He will also place crowns on teeth with large, unsightly fillings or over teeth that have undergone root canal procedures. With the proper care, patients can expect their crowns to last for up to 10 years. Metal, composite resin, porcelain, gold and other fusions are common materials used to make crowns. As someone who keeps up with the latest trends in dental procedures, Dr. Kanani recommends that patients choose to have a metal-free crown as they are more durable and gentler on delicate gums than metal-based ones.
TMJ/TMD Treatments
Besides a slew of cosmetic and oral surgery procedures, Dr. Kanani also offers treatment for Temporal-Mandibular Joint (TMJ). Caused by the misalignment of teeth, excess muscle tension or trauma, TMJ could lead to Temporal-Mandibular Dysfunction (TMD). This can cause headaches, earaches, soreness when moving one's mouth, popping of one's jaw, shoulder pain, neck stiffness, back pain and pain in the jaw muscles. Depending on how severe the problem is, Dr. Kanani will determine whether a plastic mouthpiece should be prescribed to prevent further clenching or grinding, or if surgery is required. Other treatment options include replacing missing teeth, adjusting one's bite and filling in the gaps between teeth.
Zoom! Teeth Whitening
Zoom! is an innovative teeth whitening procedure that takes no more than an hour to complete. Although one session is usually sufficient, some patients are required to undergo this session several times for optimum results. Zoom! aims to lighten the discoloration of enamel and dentin and is hailed as a procedure that is perfect for anyone looking for immediate teeth whitening. Around the Corner Dental Health Spa patients can now enjoy a Zoom! Teeth Whitening session with Dr. Kanani for only $129. As one of the top family dentists in Woodland Hills, Dr. Kanani is highly trained in conducting cosmetic dentistry procedures such as these.
For more information on Dr. Kanani and the other Mother's Day procedures on offer, contact his Woodland Hills clinic by calling (818) 962-1141 or heading to http://www.woodlandhillsdentalspa.com.
Press Release by:
Gray Element LLC.