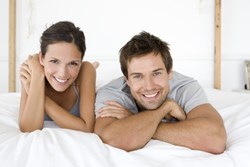 (PRWEB) September 06, 2013
Dr. Kanani, a top dentist in Woodland Hills, is here to explain to patients why his method of inserting dental implants is possibly more superior to the techniques practiced by other dentists.
First of all, Dr. Kanani wishes to explain exactly what a dental implants procedure entails. It is a procedure undertaken to replace a missing tooth, or multiple teeth. The dentist will first surgically place a small titanium shaft into the patient's jawbone. This shaft is then left to set and the bone will grow around it, forming a connection that will either slow down or stop the bone loss that occurs when the root of a tooth is missing. Once the titanium shaft implant has fully set, the dentist will then place the replacement tooth over it. Dr. Kanani, a Woodland Hills dentist, along with most dentists from all over the nation, are familiar with this procedure.
However, different dentists tend to conduct this procedure differently. Many dentists prefer to utilize what is known as a flap procedure. This entails the dentist to cut and pull back the gum, exposing the rim of the jaw in order to drill and place the implant. In some cases where patients have been missing their tooth or teeth for quite a long time, they tend to suffer from moderate to severe bone loss, meaning a block bone graft surgery must first be done before the flap procedure can be conducted.
Block bone graft procedure is when a small piece of bone from the patient's ribs, chin, hips, ramus or cadaver is taken. This block of bone will then be screwed to the patient's jawbone, which in turn creates a stable base for the implant to be inserted into.
Dr. Kanani, the top dentist Woodland Hills, has mastered a new dental implants technique known as "Flap-Less/Drill-Less Surgery". In the flap-less procedure, Dr. Kanani will leave the gum tissue intact for the whole duration of the surgery, which eliminates the cutting of blood circulation to the gums. This means that the surgery is done in a much shorter time and that the healing time for the patient is significantly reduced.
Dr. Kanani's drill-less technique utilizes a series of instruments made to expand the bone. This high tech and sensitive procedure creates a wedge in the bone, whereby a pocket is created to place the implant into. No drilling is done, ensuring that no bone tissue is lost. Instead of drilling the inner parts of the jawbone causing even thinner jaw walls, Dr. Kanani is able to condense the outer bone into a thicker wall, creating more support and base for the implant.
One of the biggest benefits to Dr. Kanani's revolutionary technique is that less post-op complications occur and that most patients heal much quicker than those who undergo the conventional methods of dental implants. Additionally, the fact that Dr. Kanani is able to treat his patients without them needed a block bone graft procedure slices down the entire dental implants cost by $3000 to $4000. The fact that Dr. Kanani's method of dental implants cost less and that healing time is shorter has urged more patients to head to this stellar dentist in Woodland Hills.
Interested patients who wish to learn more this Woodland Hills dentist and about dental implant cost are encouraged to contact Dr. Kanani and his team of specialists at (818) 962-1141 or to visit http://www.woodlandhillsdentalspa.com to schedule a complimentary first time consultation.