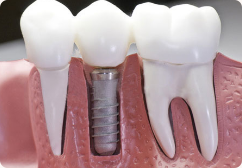 Los Angeles, California (PRWEB) September 25, 2013
Dr. Kanani, a very popular dentist in Woodland Hills, is well known as a specialist in dental implants and he is giving reasons why those who need it should undergo the dental implants procedure as it will be very beneficial in the long run. Dr Kanani also reveals the new prices for drill less dental implants starting at $395.
There are multiple reasons why tooth loss occurs and three of the top reasons can be attributed to gum diseases, tooth decay and other reasons such as getting into a fight or a bad accident. Most of the time, patients who go through tooth loss choose not to do anything about it as they are worried about how much dental implants cost. However, by leaving a large gap in one's mouth due to the tooth loss, the patient is inviting even more oral problems as the remaining healthy teeth will eventually shift and move to cover up the newly vacated space. Dentals implants will not only keep the healthy teeth in their place, this procedure will also provide aesthetic benefits.
As a top dentist Woodland Hills who performs this procedure, Dr. Kanani would like to briefly explain what dental implants mean and how much the patient can save by doing it with him. Unlike other dentists who choose to utilize what is known as a flap procedure to insert the implants, Dr. Kanani chooses to take another route. In most cases, the flap procedure requires a small piece of bone to be inserted into the jaw to form a stable base for the implant. This is done through bone graft surgery, whereby a small piece of bone is removed from either the patient's hips, ribs and so on. This bone is then inserted into the jaw to act as a base for the implant.
Dr. Kanani's method of conducting dental implants eliminates the need for bone graft surgery, thus saving the patient between $3,000 and $4,000 when it comes to the overall dental implants cost. Aside from the significantly lower price tag, dental implants promise patients a new lease on life.
1. Look and Feel Good
Say farewell to toothless grins and fake looking dentures as dental implants look and feel natural. The natural appearance and texture of dental implants have helped many patients look and feel more confident about themselves as they no longer feel self conscious about flashing their missing teeth.
2. Speak and Enunciate Better
With tooth loss comes the inability to properly enunciate words, which can lead to embarrassing situations, especially when one is speaking in public or conducting a presentation. Even with dentures, this can be a problem as ill fitting dentures can slip and move around in one's mouth. With dental implants, the patient no longer needs to worry about embarrassing speech slips.
3. Elevated Confidence Levels
As smiling, eating and speaking no longer pose as risks to embarrassing oneself, there is no denying that having dental implants done will significantly improve one's confidence level. Patients of Dr. Kanani, the top dentist in Woodland Hills who performs dental implants, say that they now have a newfound self-esteem and do not regret dental implants and having to pay for the dental implants cost.
To find out more about this top Woodland Hills Dentist, contact Dr. Kanani at (818) 962-1141 or head to http://www.woodlandhillsdentalspa.com to find out more about the pros and cons of dental implants and how much dental implants cost.