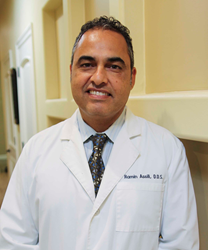 East Los Angeles, CA (PRWEB) February 04, 2016
East LA dentist, Dr. Ramin Assili, announces that he is now offering sedation to pediatric patients. Sedation is increasingly used in dentistry to ease dental care for patients with fear, anxiety and disorders that can hinder treatment. With this option available from Dr. Assili, pediatric patients may be more likely to receive the check-ups and treatment they need to keep their teeth and gums healthy. Dr. Assili, expert in pediatric sedation in East Los Angeles, offers multiple types of sedation that can be used in several treatments depending on eligibility.
Inhaled, oral and IV sedation types are available from Dr. Assili. Inhaled sedation involves the use of nitrous oxide, or laughing gas. This sweet-tasting gas is administered through a mask that patients wear over their nose during procedures. In addition to relaxing patients, inhaled sedation offers some anesthesia. Oral sedation entails the ingestion of pills by patients before treatment begins. These pills take some time to begin working and wear off slowly after treatment is complete. Finally, IV sedation is first injected into the veins immediately before treatment. This option results in the deepest level of sedation, but it is not as extreme as the general anesthesia used for invasive surgery.
Numerous procedures are offered by Dr. Assili, including restorations, cosmetic treatments, tooth replacements and Invisalign. Restorations performed by Dr. Assili include fillings, inlays, onlays and crowns. Cosmetic treatments include teeth whitening, veneers and bonding. For replacement of teeth, Dr. Assili offers dental implants and dental bridges. Invisalign, the leading discreet orthodontic treatment, is available for permanent correction of tooth positions. Root canal treatment for infected teeth and endodontic treatment for diseased gums is also available.
About Dr. Ramin Assili, Sedation Dentist East Los Angeles
Dr. Ramin Assili is a graduate of California State University, Northridge, where he earned his undergraduate degree in Biochemistry. After graduating from CSUN, Dr. Assili earned his Doctorate of Dental Surgery from UCLA. Throughout his career, Dr. Assili has completed more than 500 hours of post-graduate training, enabling him to offer his patients the latest treatments and techniques. A specialist in cosmetic dentistry and implantology, Dr. Assili is equally skilled at giving patients healthy teeth and gums and helping them look their best.