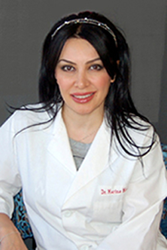 Glendale, CA (PRWEB) July 20, 2015
Glendale dentist, Dr. Marine Martirosyan, is now offering a special promotion for new patients. Finding a new dentist can be a complex business. It can be even more difficult for those with financial constraints or dental phobias. Fortunately, this special can make it a little easier. For just $99, new patients can enjoy a comprehensive dental exam and get to know Dr. Martirosyan to help put them feel at ease as they find their new dental home.
For $99, new patients will receive:

A complete dental cleaning. Clean teeth tend to be healthy teeth.
A comprehensive dental exam to check for signs of dental disease.
Digital X-rays for those hard-to-see areas that may not be visible to the unaided eye.
An oral cancer screening to spot early indications of a problem.
Other treatment options include Invisalign and braces for straightening teeth, porcelain veneers and teeth whitening for cosmetic improvements, and dental fillings and crowns for aesthetically pleasing, functional restorations. Patients can expect to enjoy a warm, welcoming atmosphere and a team of dental professionals eager to provide top-quality care using a friendly touch.
According to Dr. Martirosyan's team, "Our dentist Dr. Marine Martirosyan, is very detail oriented and that is why she is considered one of the best cosmetic dentists in Glendale." The team is just as detail-oriented and committed to patient care, also. "Our staff attends numerous continuing education classes to keep you informed the latest advances in dentistry. Our dental assistants are all x-ray certified, well trained and experienced. Our staff's goal is to meet all of your dental needs in a timely manner," stated Dr. Martirosyan's team.
About Dr. Marine Martirosyan
Dr. Martirosyan, Glendale dental implants dentist, earned her DDS from the University Of Southern California School Of Dentistry. She completed advanced training at the prestigious Las Vegas Institute for Advanced Dental Studies and later worked as a clinical faculty member at USC. Today, Dr. Martirosyan is a member of the American Academy of Dental Sleep Medicine, the American Academy of Cosmetic Dentistry and the American Dental Association. She offers extensive treatment options ranging from routine dental care to more advanced specialized treatments, such as dental implants and sleep apnea treatments.