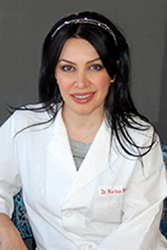 Glendale, CA (PRWEB) September 21, 2015
Glendale dentist, Dr. Marine Martirosyan, is now accepting new patients with a special offer. Throughout the month of September, Dr. Martirosyan is offering a new patient exam complete with dental X-rays and a professional cleaning for just $99. This offer gives patients significant savings from the regular price and allows patients to get to know Dr. Martirosyan and her team. This also gives patients the chance to learn more about their dental care options. The American Dental Association recommends biannual checkups for most people, because these appointments can be a good opportunity to monitor potential dental issues, learn new techniques and preventive options.
Dr. Martirosyan has a multi-specialty practice that offers comprehensive dental care; from preventive and routine care to more complex cosmetic and orthodontic treatments. "The main benefit of an orthodontic treatment is the optimization of dental, facial and smile aesthetics," Dr. Martirosyan said. Both braces and Invisalign are available at Dr. Martirosyan's office, and she can use these orthodontic treatments to straighten and correct nearly any bite or orthodontic abnormality.
Advanced diagnostics and treatment technology allow Dr. Martirosyan to provide her patients with the best possible care. "Using lasers such as Diagnodent laser and Soft Tissue Diode laser gives you the benefit of having the most comfortable and conservative treatment," states her team.
Other available treatments include:

Sleep apnea treatments
Periodontal care, including preventive, maintenance and periodontal disease treatments
Fluoride treatments
Dental Sealants
Tooth-colored fillings
Porcelain veneers
Porcelain crowns, inlays and onlays
Dental bridges
About Dr. Marine Martirosyan, Expert in Dental Implants Glendale
Dr. Martirosyan graduated from the University of Southern California in 1996 and continued her studies in the field of cosmetic dentistry. She has completed nine years of continuing education courses in just one year, and she was awarded the Continuing Education Lifelong Learner Award by Dr. Ilan Rotstein and Dr. Avishai Sadan of USC. Dr. Martirosyan is passionate about her work, where she blends art, science, technology and experience to transform smiles. She maintains a consistently high standard in everything she does. Dr. Martirosyan is a member of the Academy of Dental Sleep Medicine, the Academy of Osseointegration, the American Academy of Cosmetic Dentistry, the American Dental Association and the California Dental Association.