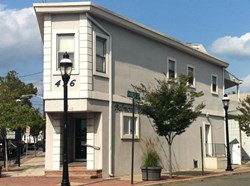 Dr. Lembo spends much time and money so that he can ascertain the right and latest technology for his practice. To have all of these tools under one roof really makes him a true innovator.
Haledon, NJ (PRWEB) October 09, 2013
Belmont Dental has been taking huge steps to optimize their services and improve the quality of dental health for their patients all year long. Their Belmont Dental plan has been laid out in full on their new Facebook page and has easily become an overnight success because it offers patients the best dental care for a low monthly fee http://www.belmontassociatesnj.com/belmont-dental-plan. With their Belmont Dental plan set in place, Dr. Lembo has been able to invest in technology that will help his patients get a leg up on their dental health.
First, Dr. Lembo and Belmont Dental brought in their E4D CAD/CAM system that allows their practice to create and install new crowns in a single visit without having to go to a separate lab. In addition to the E4D CAD/CAM System, Dr. Lembo has announced that Indentafi is now being utilized at Belmont Dental. This is no doubt due to the rise in oral cancers in the United States and the fact that many of these diseases can be treated if they are detected sooner rather than later. The Indentafi tool uses white, violet, and amber fluorescent lights that excite the oral tissue so that Dr. Lembo and Belmont Dental can detect cancerous abnormalities in real time without using the unpleasant, bad tasting dyes and solutions that have been used in the past. Belmont Dental's marketing manager, Route 72, is blown away by Dr. Lembo's efforts. Founder and CEO of Route 72 Systems, Jim Alamia, states: "Dr. Lembo spends much time and money so that he can ascertain the right and latest technology for his practice. To have all of these tools under one roof really makes him a true innovator."
For those looking to learn more about the Belmont Dental Plan and their new technologies, users can follow them on their new Facebook page that lays out the new dental plan and its benefits. In a recent post, Belmont Dental made an appearance at North Haledon Day where they handed out free oral care amenities to their community. Route 72 is pleased to see Dr. Lembo and Belmont Dental engage with their community and keep them informed about oral health. Jim Alamia states: "We couldn't be happier to see Belmont Dental get out there and engage with their neighbors in North Haledon. We have no doubts that their efforts will greatly improve the overall health of their community."
Reference:
http://www.belmontassociatesnj.com
Contact:
http://www.belmontassociatesnj.com/contact-us/contact-information-office-map