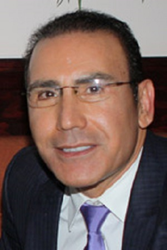 Van Nuys, CA (PRWEB) June 01, 2017
Finding a new dentist can be a big job, especially for patients who are due for their biannual checkups. Regular dental care is associated with better overall dental health and earlier diagnoses of dental problems. Hamlin Dental Group offers comprehensive dental care for patients of all ages under one roof, and is now welcoming new patients with some special promotions.
Hamlin Dental Group is currently offering two new patient specials, including:

A complete dental exam, including a consultation and digital dental X-rays for just $20
Comprehensive dental exam with digital dental X-rays and a free dental cleaning for just $49
Most insurance plans are accepted, including Medicaid, and Hamlin Dental Group offers financing for qualified patients.
During a checkup, Dr. Reza, Northridge dentist, will perform a visual examination of a patient's teeth and gums to check for any signs of dental problems. He may take a dental and medical history and ask about any medications, vitamins, and supplements you take. Digital X-rays are used to spot abnormalities between the teeth and below the gumline, and can also identify issues in bone structure, tooth roots, and other areas not visible to the unaided eye. Professional cleanings are recommended every six months for most people with healthy teeth and gums.
Along with regular checkups, Dr. Hamid Reza, dentist in North Hollywood, Van Nuys, and Northridge, and the dentists at Hamlin Dental Group offer other dental care as well, including:
Digital X-rays
Tooth-colored fillings
Endodontic therapy
Dental implants
Dental crowns
Dental bridges
Dentures
Orthodontics
Teeth whitening
Porcelain veneers
Smile makeovers
Full mouth reconstructions
Periodontal treatments
About Hamlin Dental Group
Dr. Hamid Reza founded Hamlin Dental Group in 1994. Since then, he has expanded his practice to the Northridge and North Hollywood areas, and provided families with comprehensive dental care, including dental surgery, cosmetic dentistry, preventive dentistry, and general dentistry. He is a member of the American Dental Association, the California Dental Association, and the San Fernando Valley Dental Association. Dr. Reza works with a team of highly qualified dentists and dental specialists, including Drs. Aminian, Garemani, Koshkerian, Vafadar, Wang, Woo, and Yessaian.