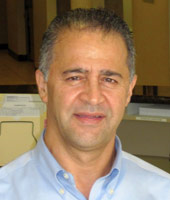 Houston, TX (PRWEB) December 24, 2014
Houston cosmetic dentist, Dr. Ali Falahat, is now offering a promotion on take-home whitening kits for patients who want to make their teeth shine in the comfort of their own home. Regularly priced at $250, the take-home whitening kit is currently available for only $199. Compared to over-the-counter whitening kits, these kits use stronger bleaching compounds to give patients faster, longer-lasting results. A variety of stains can be reduced or eliminated by these whitening kits, creating a versatile solution for patients who want to harness the power of cosmetic dentistry for improvement of their appearance.
The teeth whitening kit offered by Houston dentist, Dr. Ali Falahat, carries multiple advantages for patients who are conscious of their image as well as their safety. These advantages include:

Convenience: No extended in-office whitening sessions are necessary.
Effectiveness: Bleaching process takes days rather than months to work.
Safety: The whitening process is monitored by Dr. Falahat to support the safety of patients.
Instructions and whitening equipment, including mouth trays, are included with the whitening kit to ensure professional results.
Professional teeth whitening can address several types of stains related to lifestyle and other factors. Discoloration resulting from tobacco, coffee, tea, wine, or heavily pigmented foods can often be reduced or eliminated by professional teeth whitening. However, teeth whitening is not effective for all types of discoloration. For example, teeth darkened by tetracycline treatment or internal tooth decay will not respond to teeth whitening. Dr. Falahat may recommend another cosmetic procedure, such as bonding, veneers, or porcelain crowns, for concealment of discoloration in these cases. In addition, patients who have veneers or crowns may benefit from an alternative solution to stains.
About Dr. Ali Falahat, Expert in Teeth Whitening Houston
Dr. Ali Falahat provides compassionate dental care for prevention, restoration, and cosmetic improvement of oral health problems. A graduate of University of Houston, Dr. Falahat earned his doctorate in dentistry from the University of Texas Dental Branch and continues to attend continuing education courses in his areas of specialty. Patients who visit Dr. Falahat benefit from a comprehensive approach to dental wellness and convenient access to a broad range of popular treatments. Visit http://www.dentalbrighttexas.com for more information.