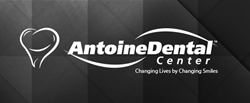 Houston, TX (PRWEB) March 28, 2017
Houston cosmetic dentist, Dr. Behzad Nazari, announces that his dental office, Antoine Dental Center, is offering an Invisalign promotion for a limited time. Patients can currently receive Invisalign from just $2,899. Restrictions may apply, and patients can contact the office for more information about the offer. Invisalign has become well known for its clear plastic aligners, which are virtually invisible. While the cost of Invisalign tends to be higher than that of metal braces, the current promotion at Antoine Dental Center makes Invisalign more affordable for patients who would prefer this orthodontic approach.
Invisalign, like metal braces, involves straightening the teeth with months or years of continuous pressure towards the desired positions. However, Invisalign achieves this with clear plastic aligners, which are worn over the teeth. These aligners are removable, unlike metal brackets and wires, which are fixed in place after being bonded to the teeth. Besides being very discreet, Invisalign is more comfortable, better for oral health, and faster than other types of braces. The availability of Invisalign Express and Invisalign Teen has expanded the applications for which Invisalign can be used.
Antoine Dental Center provides multiple other treatments in addition to Invisalign, including several other types of braces. Patients can have their teeth straightened with metal braces, lingual braces, self-ligating braces, Incognito braces, and Damon braces. Propel orthodontics and TADS are also offered for use in conjunction with orthodontic treatments. Preventive care, such as fluoride and sealants, are available and often recommended. The office also performs general dentistry, such as tooth-colored fillings, cleanings, and exams. Cosmetic options include teeth whitening, Zoom whitening, smile makeovers, and more. Other common treatments include dental implants, root canal, and periodontal care.
Dr. Nazari, formerly a registered pharmacist, has been treating area patients for eighteen years. Prior to pursuing dentistry, he graduated from Texas Southern University in 1991. For his DDS degree, Dr. Nazari graduated with honors from University of Texas at Houston Dental Branch in 1998. Today, having completed more than 1,800 hours of continuing education in his field, Dr. Nazari offers the full range of care at Antoine Dental Center. He is an active member of the American Dental Association and several other organizations in his profession.